Hot Startups: 12 European Startups win Impact Shakers Award 2021
The inaugural Impact Shakers Awards has announced twelve European startups as its winners! The twelve winning startups are based in the UK, Germany, France, Belgium, Ireland, Portugal, and Bulgaria. For Impact Shakers, the goal of the awards is to help create a fertile environment in which impact-driven European startups can grow into strong and scalable businesses.
Top Tech Update: Medtech Insights: Tackling Surges In Severe COVID-19 Cases In Africa
The winners have developed key competencies in their business domain by leveraging advanced AI and emerging technologies like blockchain, fintech, and customer behavior intelligence to shake the 'startup' ecosystem in Europe.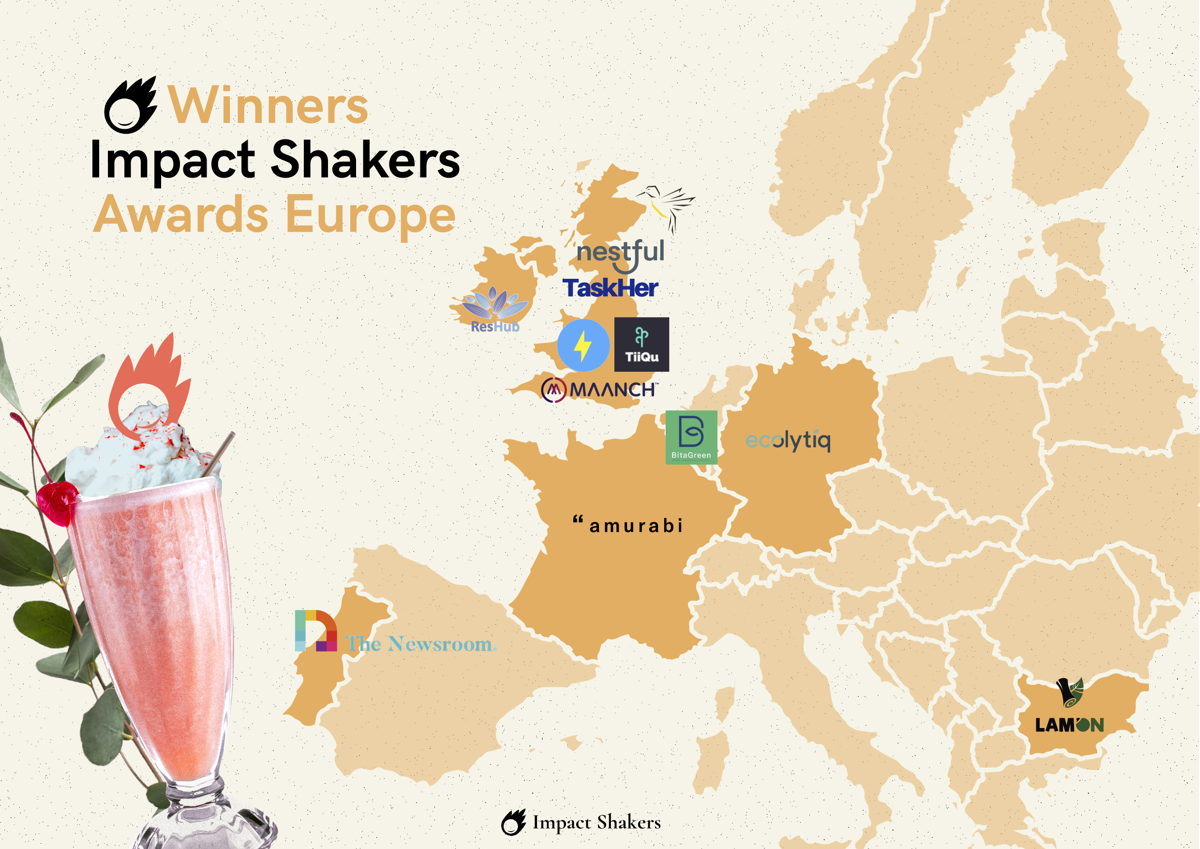 Each of the European startups focuses on environment, inclusion, and society. The winners are:
Charm Impact
Region: Borehamwood, United Kingdom
Category: Energy
Business: Charm Impact provides an investing platform that crowdsources loans for clean energy startups in developing countries.
LAM'ON
Sofia, Bulgaria
Category: Food
Business: LAM'ON produces and sells 100% biodegradable and suitable for compost laminating film called LAM'ON and packaging foil – PACK'ON.
ResHub
Region: Dublin, Ireland
Category: Health
Business: ResHub is a resident engagement platform built for relationship-centered care. It provides a truly connected experience between residents, staff and families to enhance resident wellness by enabling highly personalized care delivery.
BitaGreen
Region: Leuven, Belgium
Category: Water
Business: BitaGreen offers nature-based solutions for urban water management and quality of life.
TaskHer 
Region: London, United Kingdom
Category: Gender Equality
Business: TaskHer champions women in skilled manual trades.
Ecolytiq 
Region: Berlin, Germany
Category: Fintech Education
Business: Ecolytiq enables banks, fintech companies and financial service providers to show their customers the individual impact their purchasing behavior has on the environment in real-time.
Lightning Social Ventures 
Region: London, United Kingdom
Category: Income & Work
Business: Lightning Social Ventures helps people in financial hardship to receive super fast support and recover from shocks.
TIIQU
Region: London, United Kingdom
Category: Social Equity
Business: TIIQU is a trust mechanism continuously fed by blockchain-based certificates. They build trusted ecosystems for a modern, inclusive and fair society.
nestful
Region: London, United Kingdom
Category: Housing
Business: nestful offers customized solutions on affordable accommodation to co-live with seniors aged 50+ with rooms to spare.
Amurabi
Region: Paris, France
Category: Peace & Justice
Business: Amurabi bridges the gap between the law and its users: empowering all users to actually understand and exercise their rights.
Maanch
Region: London, United Kingdom
Category: Networks
Business: Maanch develops technology to measure, monitor, and report on the impact of investments, organizations, and philanthropy, through the lens of the UN Sustainable Development Goals.
The Newsroom
Region: Lisbon, Portugal
Category: AI-based Content Discovery and Fake News Identifier
Business: The Newsroom is fighting misinformation and promoting plurality by adding context to the news that readers consume online. It uses advanced AI-powered systems to identify articles and claims that are most likely to contain elements of misinformation.
Read More: Amazon Prime Day 2021 Sales: Top Marketing Insights
What is Impact Shakers Award?
The Impact Shakers Awards help to create a growth environment in which impact-driven startups can grow into strong and scalable businesses which in turn, make the economy more inclusive, environmentally friendly and social.
Impact Shakers-CEO Yonca Braeckman: "We are inspired by the doughnut economics model, which maps human prosperity according to a social foundation and an ecological ceiling. From this vantage point, we assess the economic profit as well as societal and environmental impact."
Next Impact Shakers Awards in the Middle East and North Africa region (MENA)
The awards are a part of the broader Impact Shakers ecosystem. The organization is currently developing its impact investment projects and will launch an accelerator later this year. The next region the Impact Shakers Awards will launch will be in the Middle East and North Africa (MENA) after the Summer.
[To share your insights, please write to us at sghosh@martechseries.com]