Smurtle Launches Providing a Clever Stand for Google Home Mini and Amazon Alexa Dot
Smurtle Offers Users of Smart Speakers a Unique Hidden Power Cable Storage System or the Ability to Run Cord Free.
Smurtle, a new clever stand for Google Home Mini and Amazon Alexa Dot, has just launched through a Kickstarter campaign. The new product is targeted to customers who use smart speakers but are challenged by untidy power cables and outlets that might not be available where needed. Smurtle's design provides a unique hidden power cable storage system or the ability to run cord-free.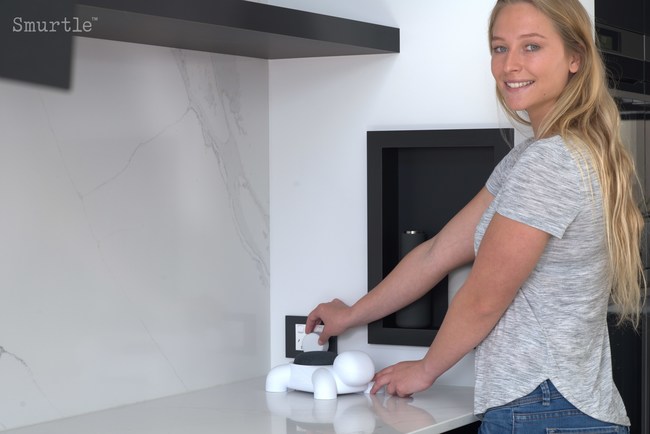 "Smurtle's sculptured design reduces clutter from any desktop, bench or wherever a smart speaker is used," explains Coleen Wright, marketing director at the company. "Smurtle's stylish looks and range of colors suit any home or office decor. Its clever design also can make a smart speaker portable by adding a power bank – the same one that's used to recharge a mobile phone, to make both the Home Mini or Alexa Dot completely cord-free."
Read More: Interview with Angel Gambino, CEO and Founder of Sensai
Wright adds, "Smurtle's clever features are the result of many months of testing, modeling and design. We're happy to be able to launch Smurtle to the world to make using a smart speaker even more functional and portable."
Smurtle can also be used beyond a WiFi range by hot-spotting a smart speaker to a mobile or another wireless broadband device and using a power bank at the same time. Smurtle can go everywhere, unplugged. Its easy to set up, comes in a choice of four colors with more to come, and offers easy access to the mute button.
The Kickstarter campaign offers a 35 percent discount for early adopters. Priced from $20 USD, Smurtle is available for shipment anywhere in the world, starting in early December.
Read More: Interview with Jeffrey Kofman, CEO and Founder at Trint