AI + Analytics Can Do Wonders- Key Takeaways from the ThoughtSpot Beyond 2023 Event
ThoughtSpot, a leader in enterprise data analytics and AI, organized Beyond 2023 conference on May 9, 10 and 11. The discussion focused a lot on using AI to consume insights. The business also described important accessibility features, such as a mobile-friendly approach to use analytics and integrations to get information about team collaboration. As the enterprise analytics startup ThoughtSpot introduces a number of new products at its user conference, including Sage, a search tool that uses core language models, we meet up with them.
Sumeet Arora is ThoughtSpot's, Chief Development Officer. He says:
The founding thesis of ThoughtSpot was improving human behavior around the analysis of data, and how we ask questions. And we built a system to achieve that. But what the availability of large language models [LLMs] has done is help us put the last mile in place, if you like. To take pure natural language and translate it into data questions. Beyond 23 is all about the modern data experience. And ThoughtSpot Sage is a big component of that. It means, for the modern data stack – which is data in the cloud – being able to help every knowledge worker access data using natural language. And nothing less.
So, whether you are an English major, a Humanities expert, a data expert, or an engineer, it doesn't matter. Everybody can leverage the power of data and analytics using natural language. So, ThoughtSpot Sage is a natural language search experience powered by AI. Leaving aside the question of whether using the name 'Sage' for a cloud-based enterprise tool is wise, given the prominence of an ERP company with the same name, he continues:
The second pillar of our announcement is being able to collaborate on liveaboards on answers, to talk to each other, make decisions, and take actions right there in the product. And the third is around how, when we do jobs, we are all goal driven. We have KPIs, and we like to stay on top of those goals. So, when you're on the go, personalized to you and relevant to you, we keep you on track of your key metrics, which are all powered by analytics and data.
Recommended: AiThority Interview with Jim Kaskade, Chief Executive Officer at Conversica
He adds:
We are not living in a walled garden built by each of the cloud players. By working with the best of the big players, we allow our customers to get best-of-breed technology.
Introducing ThoughtSpot Sage: AI-Powered Analytics With GPT
ThoughtSpot Sage, an enterprise data search tool that integrates fundamental language models with the business's own unique search engine, is the centerpiece of the company's today's launch of a variety of new products and services. With this update, they launched ThoughtSpot Sage, a new AI-powered search tool that makes it simpler for you to find solutions and insights in your complex data. GPT-3, GPT-3.5T, GPT-4, and the large language models (LLM) of the Microsoft Azure OpenAI Service are all used by ThoughtSpot Sage.
Features of sage include:
Search in natural language
Searches suggested by AI
Worksheet column synonyms produced by AI
Sage features are accessible for testing by a small number of clients. You must speak with ThoughtSpot Support to enable ThoughtSpot Sage features. Once enabled, your ThoughtSpot administrator can offer members of a group access to the Natural language search and AI-suggested search features by giving them the right to test ThoughtSpot Sage.
Come let's have a look how it works
By adding GPT to ThoughtSpot's dynamic search architecture, an even more potent natural language search experience that utilizes business data is produced. ThoughtSpot's search data model provides the right guardrails, security controls, and knowledge around the physical tables to GPT when business inquiries are entered into the search bar.
ThoughtSpot Sage adds information about attribute columns, synonyms, indexed values, formulas, join pathways, and analytical keywords to the GPT algorithm. Then, a complicated relational schema is used to execute an accurate, business-ready SQL statement. As a result, you will receive answers to your ad hoc business questions that are reliable, unique, and detailed. Additionally, search engine feedback is given in order to improve the quality of searches.
AI-assisted Data Modeling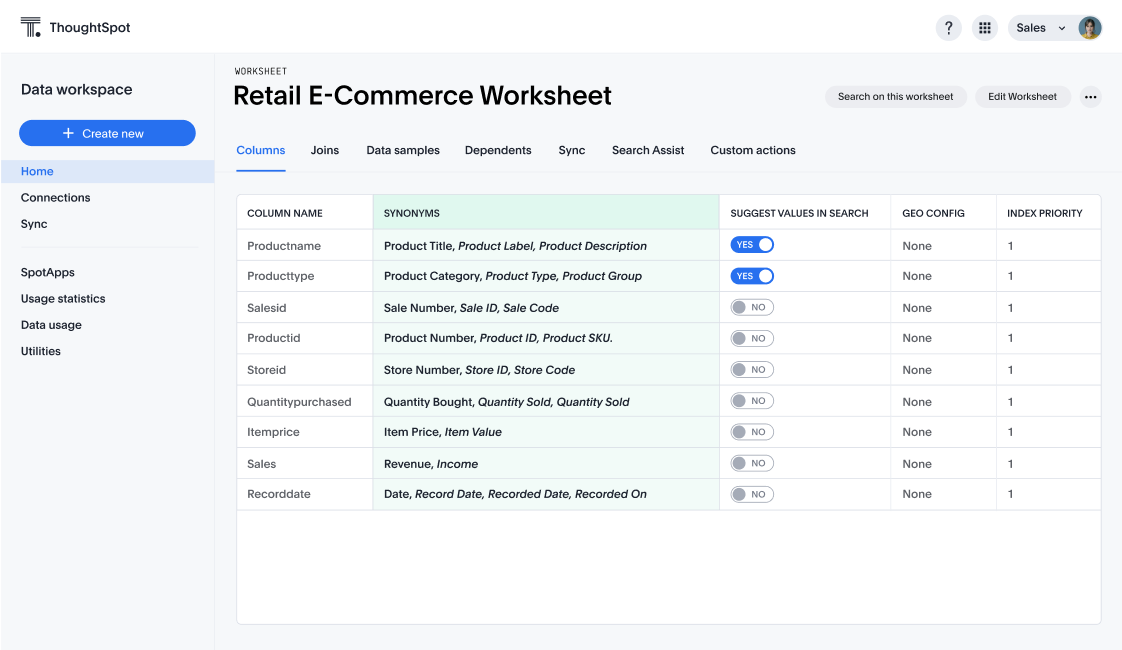 ThoughtSpot Sage makes it possible to build search data models that provide AI the power to respond to queries more quickly than before while also maintaining the integrity and bounds of your data model.
For instance, instantly created synonyms for frequently used business phrases (such as revenue vs. sales) might assist business users in finding exactly what they're looking for. Additionally, analysts have the ability to change synonyms, which cuts the time it takes to come up with insightful ideas even more. Auto-generated descriptions will soon be available to help business users fully comprehend what they are viewing.
 

New Collaborative Resources For ThoughtSpot Liveboards

 

With new tools like note tiles, cross filters, and parameters, ThoughtSpot is also enhancing the level of collaboration in its Liveboards, which are the company's take on dashboards. You can include information like branding, justifications, or context by using the note tiles. While parameters can be utilized to undertake a "what-if" scenario analysis, filters can help assure consistency in the study. The company is also introducing authenticated Liveboards to boost transparency and user confidence, as well as an in-app commenting mechanism to encourage feedback, teamwork, and brainstorming.
Features of Liveboard
You can filter the Liveboard by user from the filter bar underneath the Liveboard name.
Use this Liveboard to view and analyze information about the following topics:
Hourly, daily, weekly, and monthly active users (DAU Last 4 Weeks, WAU Last 4 Weeks, MAU Last 4 Weeks, Weekly Active Users, Daily Active Users, Hourly Active Users)
Number of user actions on the Liveboards and Answers in the cluster (Count of Current Liveboards, Count of Current Answers)
Which users are most active in ThoughtSpot, and what they do (ThoughtSpot Champions Last 30 Days, Top 10 Liveboard Consumers Last 30 days, Top 10 Adhoc Searchers)
Popular Liveboards (Popular Liveboards Last 30 Days, Top 10 Liveboards Ratio by Views, Top 10 Liveboards Ratio by Users)
User actions in the last month (User Actions Last 4 Weeks)
Unused Answers and Liveboards (Abandoned Answers, Abandoned Liveboards)
Inactive users (Inactive Users KPI chart and table)
Users by last login, number of Liveboard interactions, number of Search interactions, and number of days logged in during the last 6 months (User Profile)
New Integrations, Including An AI Assistant In Slack
The business intelligence leader also announced a series of integrations to help teams take advantage of insights right where they work. These include a connector allowing users to share links from ThoughtSpot Liveboards and generate visualization previews in Slack; an interactive AI assistant called Spot to query data in natural language via Slack; and ThoughtSpot Analytics for Excel, Google Sheets and Slides.
Analytical Visual Data Modeling
The business also added a new data modeling studio to its data workspace, which offers a visual drag-and-drop interface and guided user interface to make modeling data for analytics simpler. ThoughtSpot claims that with this solution, users can scale data literacy across the business by adding custom formulas, adjusting attributes, and configuring column properties.
Users can inherit existing joins from their database or create new joins through a guided UI; build guardrails for search by dragging and dropping relevant columns in their model.
ThoughtSpot and GPT are better together
With ThoughtSpot Sage, your company can benefit from all the features of our SpotIQ AI technology, integrated dynamic search engine, and GPT to generate insights from both humans and AI with the greatest levels of confidence. The longer you use a system, the smarter and more refined human-in-the-loop machine learning becomes.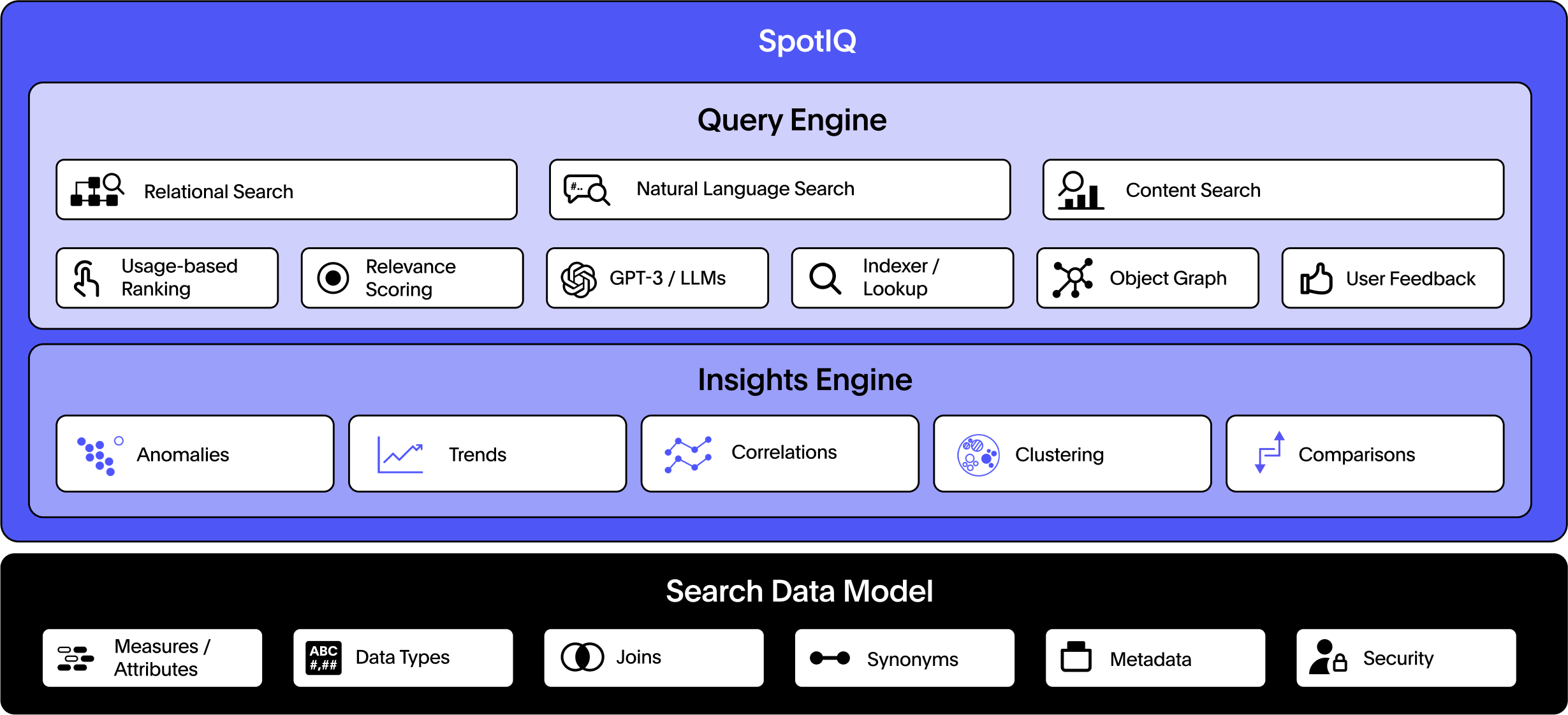 ThoughtSpot Cloud Documentation
Their hosted and managed service offering is called ThoughtSpot CloudTM. Compared to deployment form factors that you must manage and maintain within your own organization, ThoughtSpot Cloud offers a number of benefits.
Now you can get live, chat-based support from anywhere, in a small self-contained window that floats on top of the ThoughtSpot UI. You can send a message, or search for answers in our documentation, training and community sites. Messages can be product questions, sales inquiries, feedback, or even a product idea.
Other launches at Beyond 23 include:
Integration between Looker Modeller and ThoughtSpot. Using Looker's Semantic Model and Looker Modeller, customers can model, transform, and define metrics in their data, providing them the confidence and trust to empower their teams at scale. Then, anyone can use ThoughtSpot to include business monitoring and anomaly detection, investigate and endlessly delve into this data using natural language search, and create interactive Liveboards that go well beyond static dashboards. Customers will be able to use the integration later this year.
Google Cloud and Google Connected Sheets connection using ThoughtSpot for Sheets. The free plug-in ThoughtSpot for Sheets was introduced by ThoughtSpot last year for people who want to utilise Google Sheets for data research. With the integration of Google Connected Sheets, ThoughtSpot Sheets Analytics can now be used to develop and consume AI-generated insights on data directly in Google BigQuery and Looker. This includes utilising huge language models.
The most recent addition to the Data Workspace is a new Data Modelling Studio (ditto).
Integrations with popular office suites and productivity applications, extending the company's "platformization".
ThoughtSpot SaaS is now available on the Google Cloud (Google is a key component of today's announcements).
Consumer grade UX-augment human intelligence
A new AI-enhanced system called ThoughtSpot Monitor for Mobile will proactively notify users of important changes to key performance indicators (KPIs).