TCL Unveils Future Display Technologies and Next-Generation Mini-LEDs at CES 2021
Following the Theme #Experiencemore, TCL Presents the AI ​​X IoT Lifestyle With the Latest Launches in Display Technology and Impressive Multi-Category Offerings
TCL Electronics, a leading player in the global TV industry and a leader in the consumer electronics industry, will start the year more determined than ever in CES 2021 fair, with surprising launches that aim to fulfill its mission of making life intelligent through the latest Mini-LED technology.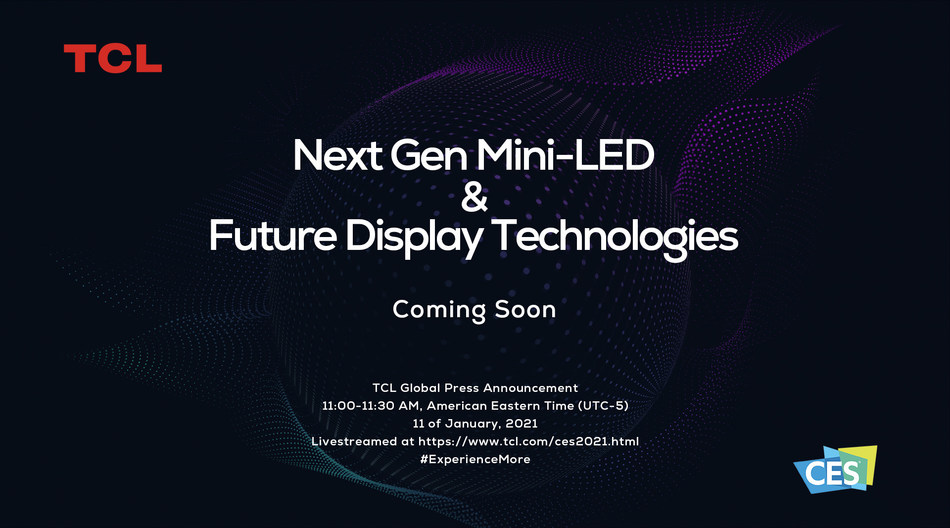 "TCL is proud to be present at CES 2021 and to be part of this vibrant industry. As one of the world's leading consumer electronics brands, and the second largest TV brand in the USA, our mission is to make life smart with use of innovative technologies through our AIxIoT strategy. As we move forward, we are committed to offering the best smart products and services to users worldwide, "said Kevin Wang , CEO of TCL Industrial Holdings and TCL Electronics.
Recommended AI News: LTE and 5G Wireless Standards Continue to Evolve with Each New 3GPP Release
This year's event will be the first "digital CES", demonstrating the resilience and global integration that allow us to continue moving forward, despite the challenges that 2020 has brought to the world.
TCL will participate in several sessions at CES 2021, including the Global Press Conference section, and will present the latest display technologies, as well as a full range of smart home appliances to offer users the best experience.
Recommended AI News: Bright Pattern Notes Companies Taking New Innovative Approaches to CX Since the COVID-19 Pandemic
Best known for QLED and Mini-LED TVs, award-winning soundbars, smart home appliances and popular mobile devices, driven by the AIxIoT strategy, TCL continues to refine and expand the limits of possibilities for display and audio technology.
On January 11, at the Global Press Conference at CES 2021, TCL will present its innovations and future display technologies and Mini-LED, which should attract the attention and interest of both the media and the consumer electronics industry.
Recommended AI News: Bright Pattern Notes Companies Taking New Innovative Approaches to CX Since the COVID-19 Pandemic