Look who's attending #WorldAIShow, Dubai edition
Dubai Is Set To Host the First Edition of World AI Show In The Wake Of UAE's 'Smart Dubai Govt' Initiative
World AI Show organised by a global business events company Trescon, is gearing up for the launch of the first leg of the series in Dubai before moving on to Singapore, Mumbai, and Paris. The city of Dubai will host the World AI Show on April 11 and 12 at The Address Dubai Mall, UAE.
The World AI Show will feature a product showcase at a dedicated exhibition venue to display the latest innovations in AI and secure the required assistance to propel their business forward. Sponsors of the show include Oben, SparkCoginition, Bankorus, Effect Network, Perpetuuiti, Nouveau Labs, Prosper Systems, eAutomaton, Chironx, Centre Systems, and association with Women AI Experts, and the Artificial Intelligence Society of Hong Kong.
Here's our pick of the most exciting speakers to look out for;
Hans Christensen – Director, Dubai Technology Entrepreneurship Centre (Dtec)
As Director for SOF and DTEC, Hans's responsibility extends to helping startup entrepreneurs establish their ventures. Currently, as Director and board member of 12 startups, some companies have graduated from the incubator and several more are currently entering into the program. As director of DTEC, Hans oversees the DTEC co-working facility. Currently DTEC is housing more than 400 startups. He is a Growthwheel advisor and certified incubation manager (with NBIA: National Business Incubation Association).
 Sally Eaves – CTO, Forbes Technology Council
A member of the Forbes Technology Council, Sally is an accomplished author with regular contributions to leading business, technology and academic publications. She is an international keynote speaker and respected online influencer across multiple channels and consistently rated in the top 10 for blockchain and social media influence worldwide. Sally strongly believes in technology being an enabler for social good which is reflected in her recent shortlisting for the UK IT Woman of the Year Business Role Model Award alongside active roles as a STEM ambassador, trustee and mentor.
Susan Oh — Chair of AI, Blockchain For Impact (BIF), United Nations General Assembly
Susan describes herself as an autodidact civic technologist in AI & blockchain; founder & advisor to benevolent AI & blockchain startups. She is the blockchain AI Industry lead for Trane AI, founder & CEO, MKR AI and a governing member, Blockchain For Impact at the UN General Assembly. Oh was a journalist with the Newsweek International team that was awarded the 1997 Overseas Press Club Ed Cunningham Award for best reporting from abroad for coverage of the handover of Hong Kong to Chinese rule. She also led a team to create two winning submissions to the 2006 Media Innovation Awards (MIAs) by Marketing Magazine (Canada) for a top Canadian entertainment conglomerate, for national transmedia campaigns (Molson Canadian, 20th Century Fox).
Read More: Interview With Jason Shu, SVP Of Data Science – Aki Technologies
Adam Zheng – COO & Co-founder, ObEN
Adam's career first started in 2003 as co-founder of China's leading dating site baihe.com which now has over 270 Million users. In 2007, Adam became a venture partner at Lightspeed Venture Partners. Adam received a Master's in Financial Engineering from the Haas School of Business at UC Berkeley (2003), and a Ph.D. in transportation system from UC Davis (2003), and MS in Environmental Engineering from Tsinghua University in China in 1998. While Adam studied his Ph.D., he published papers in Atmospheric Environment, Environmental Science and Technology, and Transportation Research Part B. Adam speaks both Chinese (native) and English.
Amir Husain – Founder & CEO, SparkCognition
Amir is a serial entrepreneur and inventor based in Austin, Texas. He is the Founder & CEO of SparkCognition, Inc. an award-winning Machine Learning/AI driven Cognitive Analytics Company. While in Graduate School, in 1998, at the University of Texas at Austin, Amir developed the ideas that led to his first venture-funded startup, Kurion. After Kurion was acquired by iSyndicate, Amir started a systems management company that merged with PC Blade manufacturer ClearCube Technology.
Amir is a prolific inventor with 10 awarded and over 40 pending US patent applications to his credit. In 2013, a low cost computing platform he invented was inducted into the collection of the Computer History Museum in Mountain View.
Read More: "At The World AI Show, The Priority Is Not To Sell But Generate Awareness" – Mohammed Saleem, CEO, Trescon
Nicolas Miailhe – President, The Future Society
Nicolas co-founded The Future Society in 2014. He believes it is of paramount important to politicize the stakes of the technological explosion we are going through. In 2012 he convened "People for Global Transformation" which brings together 15 leading voices from across the globe to help shape the 21st century's discourse on global development and governance, placing the transformative power of technology at the center of the reflection. He is currently a Senior Visiting Research Fellow with the Program on Science, Technology and Society at HKS, and a Fellow with the Institute for Data Driven Design affiliated with the MIT Media Lab. His work focuses on the governance of emerging technologies, urban innovation and civic engagement.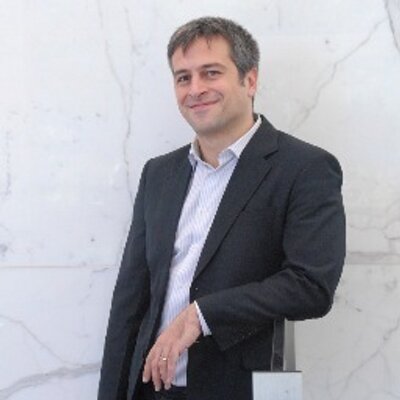 Dr. Nikolaos Mavridis – Founder and Director, Interactive Robots and Media Lab
Nikolaos is the founder and director of the Interactive Robots and Media Lab (IRML), and a PhD graduate from the Massachusetts Institute of Technology. He is also an assistant professor of research at the Computer Science department, New York University Poly, and adjunct researcher at NCSR Demokritos. Before his PhD from Massachusetts Institute of Technology, he was awarded an M.Sc. from the University of California Los Angeles, and a M. Eng. (Summa Cum Laude) from the Aristotle University of Thessaloniki. His research interests include human–robot interaction, and especially verbal and non-verbal communication with robots, artificial intelligence, machine perception, and cognitive systems.
Siddhi Trivedi – Founder, Beowulf Proof Work
Siddhi has a career that spans nearly 30 years within the Corporate and Public sectors. Her career started in the Pharmaceutical Industry and has progressed to Management Consultancy and Strategic Advisory roles in health, technology and social enterprises. She is also a TEDx Conference license holder.
She is a strategic advisor for startups and has recently co-founded and invested in a startup that applies blockchain technology within Healthcare. Siddhi is a mentor to many startups and aspiring entrepreneurs both locally and on an International level. Siddhi's contribution to mentoring women was acknowledged when in Novemeber 2017, she was a finalist for Disruptor in Business by the WLA in London and the overall winner for Disruption in Technology at the 2017 Digital
Chris R Dawe – Co-Founder & CEO, Effect.AI
Chris has played large rolls as a project manager for some of the largest digital platform design companies in the EU. With a great network of tech professionals Chris was able to put together an All-Star cast to build the future of AI. Effect.AI a Decentralized Network for Artificial Intelligence.
Read More: Getting To Know BYTON Concept — The World's First Smart Intuitive Vehicle