Too Much Rests on AI ML to Fight Climate Change
We dug out some interesting AI ML projects that are currently underway to fight climate change. We chose the Top 5 for this article. 
Earth's climate has never been consistent. It has been changing since its formation, and in the last 65 million years, the planet has seen seven glacial advances and retreats. The last Ice Age abruptly ended seven thousand years ago, leaving a trail of global climatic change that could have its impact in the future. Mostly, the Earth's climate is influenced by the planet's orbit and the amount of solar insolation it gets from the Sun throughout the year. But, in the last 50 years, there has been a deadly influence on the climate, arising from the use of non-conventional fuel, unperturbed deforestation and unplanned industrial activity to support the exploding human population.
Here is an eye-opener data visualization from NASA's climate change report —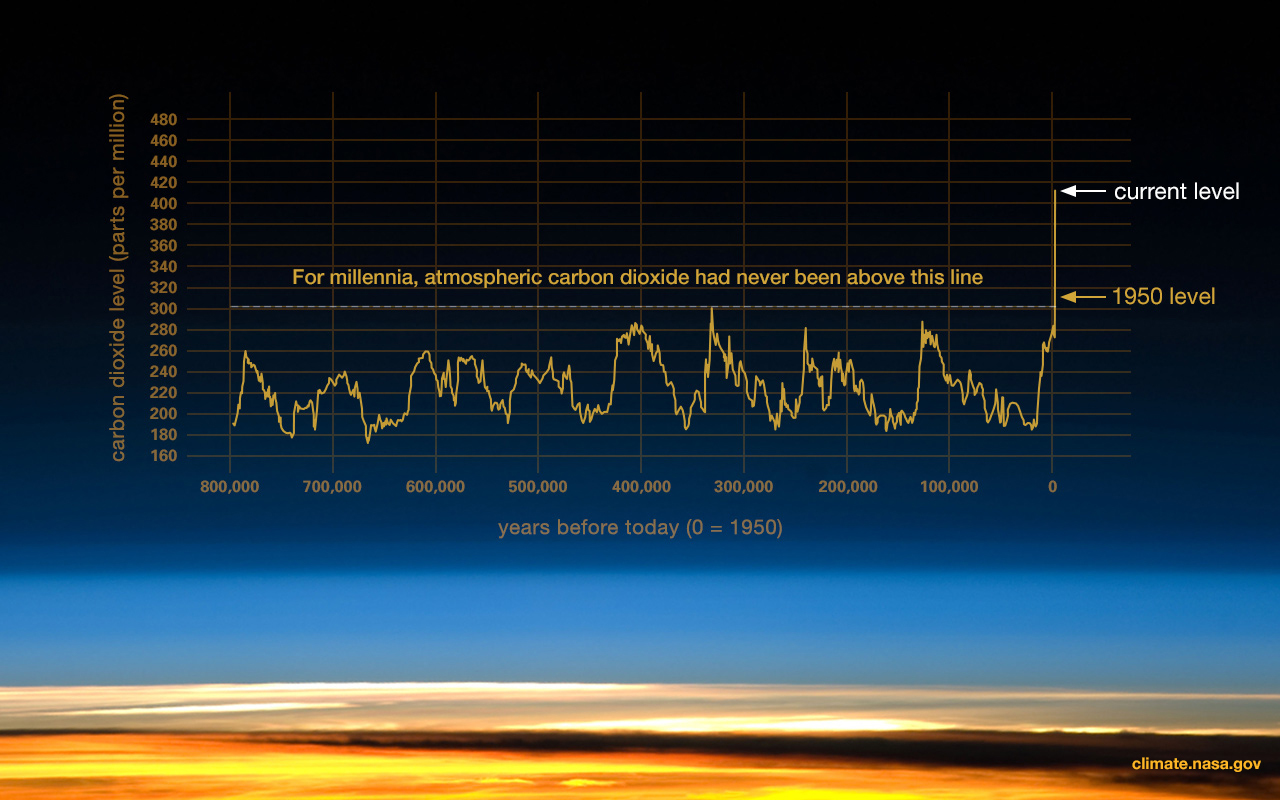 The extreme trends seen in the rise of carbon dioxide levels in Earth's atmosphere is mostly because of callous human activities throughout the 19th and 20th century, starting with the advent of the Industrial Revolution in the Americas and Europe. The global conservationists and scientists have compelling proof on the real dangers of climate change, rise and fall of hurricane activities, loss of habitat, loss of marine biology, and deforestation. Together, these impact the whole ecosystem that makes Earth the only habitable planet in the Solar system (and, maybe the Universe for now).
The World Economic Forum, PWC and Stanford Woods Institute for the Environment recently explained the role of IoT, AI, ML and Automation  in fighting extraordinary challenges staring the mankind in the 21st century.
While scientists fight the dangers of Climate Change, the eye is set on the new flush of energy around AI and Machine Learning teams. Leading experts believe that Machine Learning can be a powerful tool in controlling Green House Gas emissions, control wildfires, make smart grids, build Smart Homes, and innovate Automation to take manage disasters that ensue from a natural calamity.
Read More: Motorleaf Reveals AI-Powered Yield Prediction For Commercial Greenhouses
Yes, it's true that AI and Machine Learning offer more benefitting solutions than humans to fight climate change. But, is it going to be enough to reverse the trend that is leading Earth into a bleak (hot, wet and dry, and almost unbreathable) future! AI ML will be fighting against a hundred factors, and we still have no alternatives to stopping slipping ice sheet areas in the Poles, warming oceans, and ocean and soil acidification. We know it's happening — and AI ML data only proves that the dangers are real and coming too soon.
Global temperature change from 1850-2018

Download and use similar graphics for virtually every country: https://t.co/Zd3HFHcXQe #ShowYourStripes pic.twitter.com/N5oyXMMSmu

— Ed Hawkins (@ed_hawkins) June 18, 2019
According to WEF,  we are at a point of no-return to save Earth from falling prey to climatic changes caused by human activities.
Here's the projection (near impossible, if we take AI ML efforts out of the equation) —
"By 2030, carbon dioxide emissions caused by humans need to fall by about 45% from 2010 levels, reaching 'net zero' around 2050. Remaining emissions would need to be balanced by removing CO2 from the atmosphere, for example through reforestation and improved land management."
#ShowYourStripes: Over 1 million downloads of the warming stripe visualisations.#MetsUnite: 120+ live broadcasts used the graphics.https://t.co/IvgELpy04H pic.twitter.com/vVqqlYGyBL

— Climate Lab Book (@ClimateLabBook) July 21, 2019
Our analysts dug out some interesting AI ML projects that are currently underway to fight climate change.
Here are the top 5 that we selected for this article.
Read More: The Blink Community "Breaks" Hearthstone
Prediction of Aerosol Optical Depth (AOD) and Regional Climatic Change
Climatic change in the Middle East is hurting global efforts. It is known for dust storms. But, recently, we are seeing the major climatic impact from its aerosol use. The war-torn areas of the region are hard to study. That's why researchers are relying on AI ML and data science to fully understand the impact of fire, chemical effluents, sewage pollution, and soil acidification. The research speaks at length about the effects of climate on human health and the dynamics of vector-borne diseases.
Similarly, AI can be used to study the depths of the ocean and how underwater volcanoes cause an increase in water temperature. The use of drones for terrestrial volcanoes and submersible Robo-divers for oceans could open new doors of research for data scientists studying climatic change.
A research project headed by Sébastien Valade from TU Berlin and the GFZ German Research Centre for Geosciences in Potsdam led to a new volcano monitoring platform that analyses satellite images using Artificial Intelligence (AI).
IBM Deep Thunder
IBM Deep Thunder has studied over 11 billion water and water-related predictions in the US in the last 20 years. Their short-range climatic change data is coupled with analytics and visualization tailored to individual business needs. It makes a detailed assessment of city crisis management to help civic bodies prepare for floods, hurricanes, drought, wildfire, and related emergencies.
The U.S. Environmental Protection Agency has used NASA's Landsat technology and the vast collection of data to show what changes are happening to Earth. With IBM Deep Thunder, it can be further analyzed to understand how the world today is vastly different from what it was a decade ago!
Microsoft's AI for Earth
Microsoft's AI research team is already running major programs to save Earth. The most prominent is Terrafuse. Terrafuse is using advanced automated machine learning to forecast climate-related risks. The data analytics engine is ingesting billions of historical wildfire data, numerical simulations, and satellite imagery on Microsoft Azure. The data scientists leverage Microsoft Terrafuse to model wildfire risk for any location. It is also closely integrated with other Earth conservation projects running on AI ML engines, such as Project Premonition, FarmBeats, Vulcan EarthRanger and so on.
The AI for Climate Change Bootcamp, Stanford University
The effects of Climate Change can be best understood in schools and colleges. Stanford's ML Group runs The AI for Climate Change Bootcamp. This ML Group offers a bird's eye view on various challenges in the climatic impacts. Students work closely with  Professor Andrew Ng's lab and with faculty in the Department of Earth System Science and the Department of Civil and Environmental Engineering.
Iris.ai 
Iris.ai is a different league player in the Climatic Change battle. It uses AI ML to empower researchers with all the documents needed to study the various factors resulting in climate change. It has two projects:
R4R : Research for Researchers
Project Aiur
Driven by the idea of democratization of data science, Iris.ai is bringing cutting-edge information that is accessible to everyone.
Read More: Blockchain Technology to Disrupt Internet of Things (IoT) and Artificial Intelligence (AI) Platforms
Element AI Research
Founded in 2016, Element AI has made rapid strides in the deep learning hub of Canada. 500 inquisitive AI scientists, designers, developers, architects, and strategists work on various Enterprise and Conservationists AI projects across North America, Europe, and Asia. Led by Dr. Yoshua Bengio, Ph.D., Co-Founder & Deep Learning Pioneer, Element AI is currently involved in open collaboration with various partners and research communities fighting the climatic change. There are several good reasons for us to believe that companies like Element AI provide a perfect opportunity for Climate change activists and researchers to embrace AI as a transformative tool to address this grave issue.
Similarly, Grid4C  is already delivering plug-and-play Smart Grid solutions using AI software. It has made significant headways in cloud technologies, quantum computing, distributed computing, predictive operational analytics to energy companies can handle and integrate big data with agility and speed. Diversified enterprise groups like TechMahindra have announced scholarships and research activities to build an AI-driven global movement for climatic change. We need hundreds of such companies, labs, and analyst groups to ensure that our reusable energy grows by 10%, and carbon dioxide emissions drop by 50%.
The first Chief Operating Offer of DeepMind, Lila Ibrahim, had said —
"AI is one of the most transformative technological developments of our time, and I believe we've only just begun to recognise its potential for positive impact around the world. 
Leading researchers in the field of conservation of Earth and climate change
As research into AI-based Climate change broadens, we will cover more grounds in the role of Automated Intelligence , Assisted intelligence, Deep Learning, Augmented Intelligence , and Neural Processing. Let's hope for a better future, 'earthly' future where AI is the currency to survival and sustenance.
Read More: Expedia Travelers Reveal the Top 10 Sustainable Places to Stay Around the World, Ahead of Earth Day 2019