Remote Workstation turn to Hyper-Gaming Arena with the NVIDIA vGPU July 2020
New NVIDIA vGPU July 2020 Software to Create Success Stories in Remotely Developed AI ML, Automation, AR VR and Hyper Computing Domains
Virtualization is not a new phenomenon. However, in the past, virtualization was mostly restricted to accomplish work that doesn't involve complex workloads like motion graphics or gaming frameworks. However, things are changing, especially with the coming of age for new technologies like Computer Vision, Machine Learning for Augmented Intelligence and Object Recognition. And, Virtualized Graphics Process Unit (vGPU) cards are a big part of this massive transformation happening "remotely."
NVIDIA is permanently transforming the way professionals work at home. The new set of virtualized GPU (vGPU) software from NVIDIA would put advanced IT tools and capabilities into the hands of artists, designers, gamers and data scientists. Working remotely would no longer mean staring at black screens and scrolling mindlessly to get work done. The new software is called vGPU July 2020 and is released with improved operational efficiency for IT admin to handle inconsistent workloads.
Tuning Workflow to Meet Coronavirus Pandemic Deadlines with NVIDIA vGPU July 2020
Within less than 3 months, vGPU July 2020 has arrived in the market to help millions of professionals working from home. When the pandemic-induced lockdown started to topple established norms of remote workplace, NVIDIA began its development of GPU software. The new GPU software supports diverse workloads. It is loaded with favorable work management features that improve operational efficiencies for IT administrators.
Read Also: World's Top System Makers Unveil NVIDIA A100-Powered Servers To Accelerate AI, Data Science And Scientific Computing
From providing cross-branch support to easing upgrades and large deployments, IT admins can thrust workloads onto the latest hypervisor versions using the NVIDIA vGPU July 2020. These can detect and install security patches and new features, while staggering deployments for end-user images.
For users who have VMware vSphere to run their enterprise data centers can experience much improved operational efficiency in having to manage vGPU powered Virtual Machines with the newly-debuted VMware vRealize Operations.
Recently, VMware had introduced the Distributed Resource Scheduler (DRS) support for GPU-enabled VMs tied to vSphere. vSphere 7 "Assignable Hardware" is a powerful networking tool that connects VM to be automatically "placed" on a host that has exactly the right GPU and profile available before powering it on.
Distributed Resource Scheduler (DRS) support with vSphere Assignable Hardware ensures new VMs are connected in real-time and within minutes. In a normal scenario, this integration is carried out mostly in manual-mode and takes up hours. Also, if VM connection is lost or disrupted due to any reason, the NVIDIA vGPU July 2020-enabled VM restarts automatically on another host with optimized GPU resources.
Recommended: AiThority Interview With Dave Sikora, CEO At ALTR
What is GPU Virtualization?
Virtual machines allow users to share a GPU card in a manner in which IT administrators can continue to deliver high-performance graphics and computing power to virtual desktops at a much cheaper cost of operation.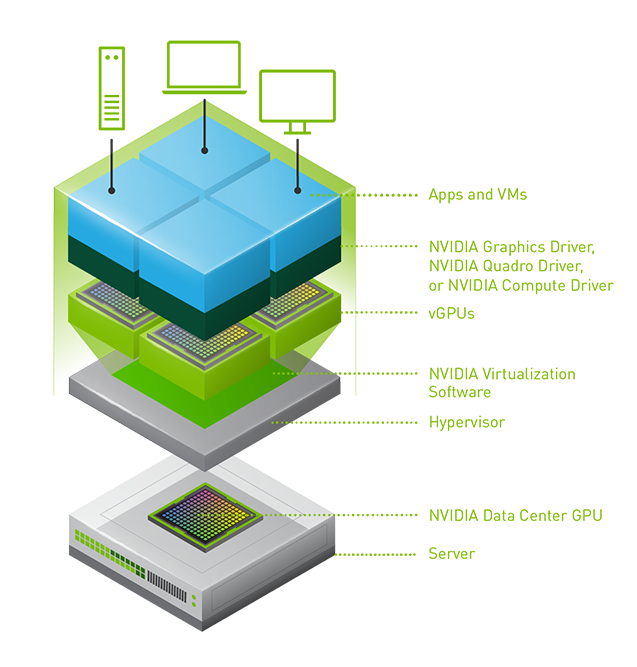 Today, NVIDIA's GPU virtualization is offered to designers to data scientists in a flexible way so that they can effectively collaborate on projects with all their team members working from remote locations. These are achieved by syncing the vGPU software with advanced graphics and computing power. Currently, Citrix and VMware are the two companies that support NVIDIA's GPU technology.
Read More: Digital Transformation Impacts Brand Image And Provides Value To Society
"In a VDI environment powered by NVIDIA virtual GPU, the NVIDIA virtual GPU software is installed at the virtualization layer along with the hypervisor. The NVIDIA virtual GPU software creates virtual GPUs that enable every virtual machine (VM) to share a physical GPU installed on the server or allocate multiple GPUs to a single VM to power the most demanding workloads."- NVIDIA
With GPU technology coming to virtual machines at a level that NVIDIA is offering to data scientists and artists, workers no longer have to be "tied" to their seats. With the virtualized GPU technology, IT admins can enable any user with anywhere/anytime access to Big Data management, analytics and designing without compromising on performance.
According to independent market research on the role of NVIDIA virtual machines during the COVID-19 pandemic, it was found that organizations with 500-1,000 users experienced a 13% increase in productivity, resulting in approximately more than $1 million in annual savings.
NVIDIA vGPU July 2020 Technology on SUSE's High-Performance Computing Environment (HPCE)
NVIDIA has partnered with SUSE to expand its GPU Technology in a hypervisor environment. SUSE HPCE will support vGPU data on its Linux Enterprise Server, providing vGPU support on its kernel-based VM platform. This would be extended entirely to the NVIDIA vComputeServer software for various virtualization requirements related to data-intensive AI ML workloads.
At the time of this announcement, Brent Schroeder, global Chief Technology Officer at SUSE said —
 "Demand for accelerated computing has grown beyond specialized HPC environments into virtualized data centers. To ensure the needs of business leaders are met, SUSE and NVIDIA have worked to simplify the use of NVIDIA virtual GPUs in SUSE Linux Enterprise Server. These efforts modernize the IT infrastructure and accelerate AI and ML workloads to enhance high-performance and time-sensitive workloads for SUSE customers everywhere."
Time to Explore AR VR Streaming: Partnership with VMware Take a New Flight
VMware vSphere and NVIDIA Quadro Virtual Workstation are now a part of the combo to deliver Augmented Reality and Virtual Reality (AR/VR) on Wi-Fi and 5G networks.
NVIDIA CloudXR technology uses NVIDIA RTX and vGPU software for AR VR streaming. AR VR developers can create a much smoother immersive experience on un-tethered devices. This allows them to create a level of fidelity that's indistinguishable from natively-networked tethered configurations.
Speaking about the partnership with NVIDIA, Matt Coppinger, Director of AR/VR at VMware said —
"Streaming AR/VR over Wi-Fi or 5G enables organizations to truly take advantage of its benefits, enabling immersive training, product design, and architecture and construction."
Matt added, "We're partnering with NVIDIA to more securely deliver AR and VR applications running on VMware vSphere and NVIDIA Quadro Virtual Workstation, streamed using NVIDIA CloudXR to VMware's Project VXR client application running on standalone-headsets."
Real-time RTX Rendering with Omniverse AEC Experience
NVIDIA vGPU July 2020 will be hosted on Omniverse AEC Experience to combine the power of real-time collaboration with RTX rendering using NVIDIA Quadro Virtual Workstation software for the data center.
The combination supports at least two virtual workstations on an NVIDIA Quadro RTX GPU. It is capable of running multiple workloads to develop not only photorealistic rendering but also AR VR designs. With Quadro vWS, users can connect to workloads with any internet-connected device, laptop or tablet, and data remains highly secured in the data center.
All these features and partnership add-ons empower IT admin team members to effectively manage their various workloads on cloud service to further streamline virtual machine management.
(To share your insights, please write to us at sghosh@martechseries.com)