Enterprise Ireland Brings Game-Changing Panel Events and Irish Innovation to SXSW 2021
Irish Start-ups Pitch Industry Altering Solutions for Music, Medicine, Agriculture and Transportation at Iconic South by Southwest (SXSW)
Enterprise Ireland, the most active venture capital fund globally, is expanding its presence at this year's virtual SXSW with a unique quick-pitch event followed by a panel discussion exploring 'How Irish Innovation is Changing the Game.' Industry experts from Draper Associates, Blue Sky Partners, and PepsiCo Strategic Investments will hear pitches from leading Irish start-ups in animation, entertainment, media, music, medtech and more. Following the quick-pitch event, the panelists will discuss the role that Irish companies and solutions play within their industries to drive business growth and innovation.
"SXSW is an excellent opportunity for start-ups to pitch business concepts to a large and diverse audience, receive feedback and grow their footprint in the industry," said Daniel Mulhall, Ireland's Ambassador to the United States. "As someone who values the opportunity to work with America to further strengthen the bond between our two nations, I appreciate the global excitement around the SXSW event and the opportunities it brings to Irish companies. I am looking forward to kicking off this year's panel discussion involving some of the most innovative Irish companies within their industries."
Recommended AI News: Decentralized Oracle Solution Umbrella Network Expands Strategic Partnership with HashQuark
Quick-Pitch Event & Panel Discussion
The Irish companies participating in the quick-pitch event and 'How Irish Innovation is Changing the Game' include: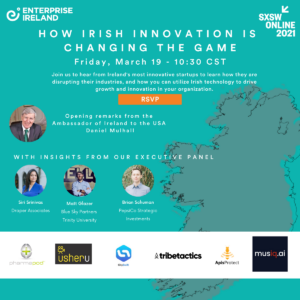 Usheru is a movie marketing and analytics company focused on building web platforms for studios and film distributors to shorten the journey from a marketing campaign to the 'moment of purchase' (theater ticketing and home entertainment). Usheru helps clients build fanbases and own the 'moment of purchase' to drive direct-to-consumer connections.
Tribetactics helps companies extract minutes of video/audio into months of content. Chopcast, its AI platform, is the easiest way to repurpose video episodes, webinars, and talks into tons of social media content. With click-to-edit automatic captioning, text styling, clip trimming, and more, Tribetactics saves hours of work and is ideal for teams that need content done–yesterday.
Platinum Innovation/Musiq.ai predicts the future of music. The company's AI-powered global music intelligence platform provides vertically-specialized insights for music content decision-makers enabling growth in business performance, delivering operational efficiencies, and bringing innovation and insights to the forefront of the decision-making process. musiq.ai allows customers to connect with consumers tomorrow by making brilliant content decisions today.
Pharmapod is the leading cloud-based, incident management, and business intelligence tool for reducing medication incidents, driving efficiencies in community pharmacies, long-term care, and hospitals. Pharmapod is in the final stages of launching an end-to-end solution to streamline the rollout of COVID-19 vaccines, and other clinical services, globally. The solution acts as a patient record and management web-based platform with real-time analytics, as well as a patient app with online booking and remote eligibility screening capabilities.
ApisProtect brings groundbreaking technology to commercial beekeeping. Using a combination of IoT (Internet of Things) and AI (Artificial Intelligence) technologies it remotely extracts data about hives and converts it into meaningful insights about operations, enabling beekeepers to deploy their labor and resources to maximum effect. ApisProtect is providing the most accurate, reliable, and beekeeper-friendly technology in this market.
CitySwift is a specialist data engine platform that powers modern public transportation networks, driving improved network performance, efficiency and information to network managers and customers. It seamlessly integrates with existing public transportation systems and technologies allowing CitySwift to augment public transport operators & authorities current IT infrastructure investments while capturing the power of all the available data sources.
The event panelists include Siri Srinivas, Partner at Draper Associates, Matt Glazer, The Co-Founder/Managing Director of Blue Sky Partners and Entrepreneur-in-Residence at Trinity University, and Brian Schuman, Principal at PepsiCo Strategic Investments.
Recommended AI News: Tempered Combines Strengths with Nozomi Networks to Deliver Industry-Leading IoT/OT Security
Virtual Booth
This year marks the tenth year of Enterprise Ireland's participation in the SXSW conference. Several Enterprise Ireland clients will also be participating in SXSW by hosting virtual booths of their own, including Tixserve Limited, Voxxify, Zyte, and Volograms. Along with their booth, Volograms, whose products enable the capture of volumetric holograms of real people for all kinds of immersive experiences, apps, and social media, will host their own official SXSW virtual event to announce the launch of their new product and discuss the future of content creation.
Innovative, Ireland-based companies VRAI, Utmost, Usheru, Algorithm, Optily, and Evercam will participate in the Enterprise Ireland SXSW virtual booth and benefit from Enterprise Ireland support in facilitating introductions and connections with business leaders within their industries.
Although virtual this year, the SXSW festival will continue to bring together innovative thinkers and companies from around the world to celebrate the convergence of the animation, film and music industries. The event, featuring a wide variety of business and networking opportunities, has become an essential destination for industry professionals over the years.
The quick pitch pre-event and panel discussion on March 19th is being promoted on the SXSW official schedule and is open to outside attendees. Click here to register for this unique event: How Irish Innovation is Changing the Game
Recommended AI News: Dream Advisors Acquires Additional German Logistics Assets