IoT Marketing Strengthens IoT Ecosystem by Hosting the First Annual Industry Insights IoT Awards
The Industry Insights Webinars series aims to provide business professionals a sense of community within the Internet of Things space.
Industry Insights Webinars held the 2020 Solution Spotlight Showcase and First Annual Industry Insights IoT Awards, with Host Tiffani Neilson and Guest Co-Host Steve Brumer on Thursday, December 10, 2020, as part of IoT Marketing's monthly Industry Insights Webinars series.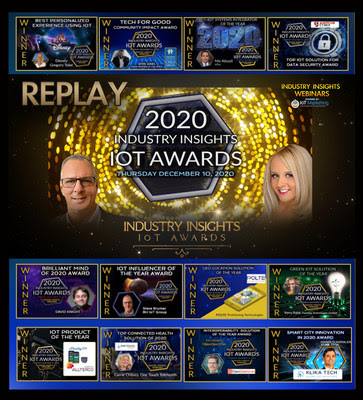 The live event featured thought-provoking conversations on the State of IoT and recognized the top IoT solutions, businesses, and industry leaders for their success in 2020, giving each of the winners the opportunity to say a few words when accepting their award. The special edition closed with forward-looking thoughts, trends, and tips for the year ahead.
Recommended AI News: OneLogin Named a Leader in the 2020 Gartner Magic Quadrant
"2020 has been a challenging year and IoT Marketing created the Industry Insights IoT Awards to recognize IoT businesses and leaders for their accomplishments in expressing resilience and innovation to push the industry forward," stated Tiffani Neilson, host of the webinar series and Director of Marketing and Sales at IoT Marketing LLC.
Key awards and winners featured during the event include:
Top IoT Solution for Data Security Award (Winner): Ampcus Cyber, accepted by Viral Trivedi
Green IoT Solution of the Year Award (Winner): Paradise Technologies Limited, accepted by Kerry Babb
Geo-Location Solution of the Year (Winner): Polte, accepted by Len Schuch
Top Connected Solution for Health Award (Winner): One Touch TeleHealth, accepted by Carrie Chitsey
Interoperability Award (Winner): Object Spectrum, accepted by Eric Lenington
Best Personalized Experience Award (Winner): Disney, accepted by Gregory Toler
Tech for Good Award (Winner): Indiana Department of Child Services, accepted by Kevin Jones
Brilliant Mind Award (Winner): David Knight, Terbine
Smart City Solution of the Year Award (Winner): Klika Tech, accepted by Monolo Morales
IoT Systems Integrator of the Year Award (Winner): IoTco, accepted by Mo Abuali
IoT Product of the Year Award (Winner): Shelly 3EM by Allterco Robotics
IoT Influencer of the Year Award (Winner): Steve Brumer, BH IoT Group
Recommended AI News: DefinedCrowd Announces Expanded Datasets for European Languages
Founder of IoT Marketing, Johannes Beekman, shared, "Facilitating constructive dialogue around new and existing challenges while highlighting marketplace solutions aimed at solving industry pain points is crucial to move the IoT industry forward. For this reason, Industry Insights Webinars is committed to serving audiences with content that helps close the gap between solution providers and those in search of their products and services."
In the absence of trade shows, many players in the IoT ecosystem are struggling with business development for their connected solutions. To serve this need, Industry Insights Webinars has created a virtual community for business professionals and thought leaders to share their knowledge and expertise.
Additionally, IoT Marketing is preparing to launch an exclusive on-demand channel and new Industry Insights Webinars website in early 2021. All webinar replays, including the 2020 Solution Spotlight Showcase and Industry Insight IoT Awards are currently available on IoT Marketing's website.
Recommended AI News: Intel Building the Future of High Performance Computing