AiThority Interview With Kimberly Samon, Chief People Officer at MediaMath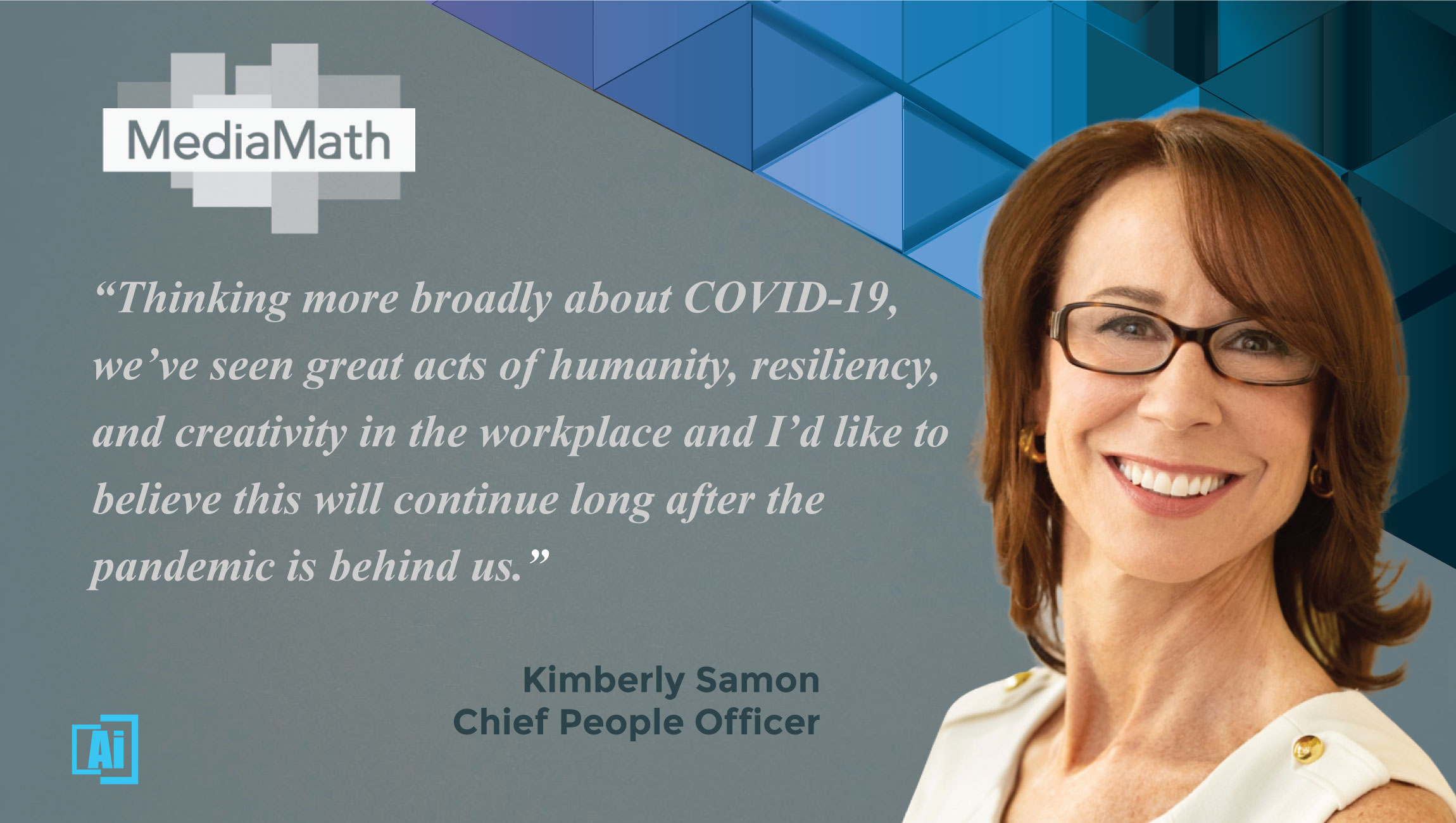 Hi Kimberly, please tell us about your journey as a People's Manager in the various companies you have worked for?
People are at the center of every company's success, and I've been fortunate to have worked with some fantastic leadership teams who deeply understand this essential connection. Great teams understand that people want inspired leadership that is transparent, authentic, and who genuinely care about people as individuals first, not only as employees.
In my experience, this brand of leadership builds trust in organizations and that trust accelerates transformation. Our people won't trust us to do the right thing as leaders if we don't trust employees with the information, they need to move the organization forward.
Read More: AiThority Interview With Elie Melois, CTO And Co-Founder At LumApps
People behave differently as individuals and when they are in groups or in teams. How difficult is it to exactly guide HR policies and relay Employee Communications through remote workplaces (a reference to work from home and pandemic crisis)?
MediaMath is a global company with teams around the world, so the dissemination of information and remote connectivity is something that was already ingrained in the culture.
My preference is to conduct co-creation of People programs with the leadership team and with employees from all over the organization and doing this in a purely remote manner is a bit more challenging but certainly doable.
Relating specifically to HR policies, we know that this pandemic is affecting different people in different ways and we are treating people as individuals with the care and respect they deserve and need to get through this crisis.
We've also blocked meeting-free time off during each day for people to take care of their personal lives, feeding children lunch, taking some exercise, and encouraging them to step away for a while.
Read More: AiThority Interview With Eyal Feder-Levy, CEO and Co-Founder at Zencity
How do you see various HR Technologies actually empowering the management to better communicate with the employees?
Which platforms, apps, and tools do you currently use/previously used to manage your People Management goals?
I'm a big fan of video and MediaMath is a Zoom culture.
Starting a role remotely in the middle of a pandemic was relatively easy with video technology.  It will never fully replace a face-to-face meeting for me, as I find it very helpful to feel other people's energy which is difficult to do over video.
At MediaMath, we've recently implemented a host of workplace tools that will allow us to drive better decision making for our teams.
Having information on our people is important when designing programs that will be impactful to our people and having robust survey tools and data analytics on our workforce gives us the information we need not just at a macro level but at a team level as well.
We also have a lot of self-service technologies so employees can access information about the organization, their personal data, and various People related programs and resources.
During the ongoing pandemic, what cultural transformations have you witnessed in the industry, especially in the B2B companies?
The way we work on a mass scale will change. Companies can now offer more flexible work, knowing it is successful, and employees will hopefully benefit from shedding long commutes and spending time with family and engaged in personal passions.  Thinking more broadly, we've seen great acts of humanity, resiliency, and creativity in the workplace and I'd like to believe this will continue long after the pandemic is behind us.
Read More: AiThority Interview With Tom Pendergast, Chief Learning Officer at MediaPRO
Any advice to manage cross-cultural teams and cultivate employee branding –
I could speak for hours on both topics, and both are high on my priority list at MediaMath! How we operate as a global company is part and parcel of our employment brand, so I'll speak more broadly on my view of employment branding.  We're about to embark on an employment branding exercise, and our employment brand is the sum of all experiences a would-be "consumer" of employment programs has with MediaMath.
I've always been surprised how much time and rigor companies invest in developing products for the consumer but don't apply the same approach for employees who are in essence the "consumers" for employers.  We'll be using a very product development-like approach to design our employment with cross-functional, global employee involvement to create something unique and ownable to MediaMath. Stay tuned!
Thank you, Kimberly! That was fun and hope to see you back on AiThority.com soon.
Kimberly Samon is the Chief People Officer at MediaMath.
Kimberly is a multifaceted leader and coach, with over 20 years of experience guiding public and private companies through periods of intense transformation. She was most recently Head of Global Operational Excellence and Chief People Officer at WW International (formerly: Weight Watchers) where she spearheaded their cultural and digital transformation, creating a 360-employment brand to attract and retain top C-level and technology talent.
In her role, Kimberly drives organizational effectiveness through a comprehensive people strategy. She directly oversees all people-related solutions and human resource functions including: workforce planning, talent acquisition, performance management, succession planning, diversity and inclusion, learning & development, and our overall employee experience.

We are building a new accountable & addressable supply chain for the industry.
Brands and their partners use our technology and services to achieve the performance they deserve with less effort. We created the first software for real-time media buying in 2007 and today work with over two-thirds of the Fortune 500 and more than 3,500 brands and their agency partners to grow and deepen direct customer relationships.
Our clients can access the purest supply to reach real humans at the scale they need across channels like mobile, CTV and display and can use a combination of advanced AI and human expertise to drive improved results over time.