Skyfire Consulting Offers Drone Christmas Tree Ornament
Trim Your Tree with a sUAS
Skyfire Consulting, a public safety drone consulting company, has teamed up with Sporty's Pilot Shop to develop a drone Christmas tree ornament. Made from hard resin, Skyfire's drone ornament is modeled after a consumer-style drone.
"We have hundreds of clients who are enthusiastic drone pilots, and we want to give them a way to celebrate their passion on their Christmas trees," said Matt Sloane, CEO of Skyfire Consulting. "We looked and looked to try to find an existing drone ornament, but we couldn't find one anywhere, so that's when we called Sporty's."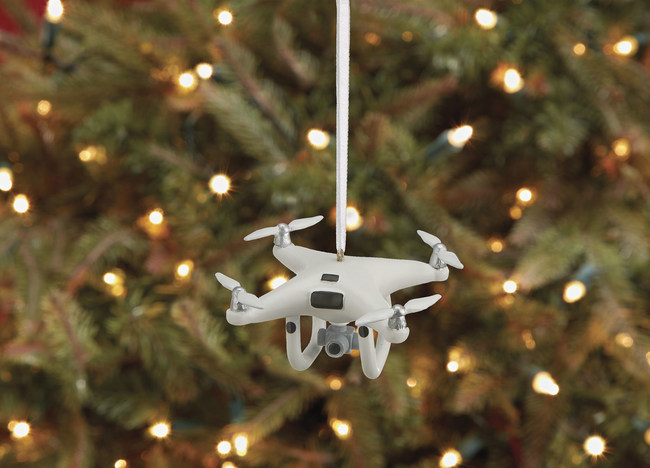 Sporty's Pilot Shop, the world's largest online retailers for pilot supplies, currently carries a selection of Christmas tree ornaments depicting a variety of airplanes.
Also Read: Operators taking flight: The Emerging Role of Drones in Network Operations and Maintenance
"With thousands of drone pilots, offering an ornament just for them is a natural addition to our line of Christmas tree ornaments," said Sporty's Doug Ranly. "With the crossover between airplane pilots and drone pilots, we think this drone ornament will be a popular item this holiday season."
Ornaments will be available for pre-sale in July on SkyfireConsulting.com for $29.99, and proceeds will be donated to public safety charities. The ornament will also be available on Sportys.com or by calling 1-800-SPORTYS.
Founded by public safety professionals, Skyfire Consulting believes that America's First Responders are the backbone upon which this great nation was built. Skyfire supports organizations in all 50 states with cutting-edge firefighting and police drone technology, and industry-leading expertise in certification, regulations, and training. Skyfire is the leading public safety-specific sUAS company in the country, and offer the equipment, flight training and ground courses, grant assistance, and FAA consultation necessary to not only acquire a blanket and jurisdictional COA but to fly safely and effectively while minimizing liability.
Recommended Read: Commercial Aerospace Revenues Continue Deceleration, While Defense Speeds Ahead According to Deloitte Global Report