What US's Federal Aviation Administration New Drone Operation Rules Mean for the Market
The US drones services market is a raging business opportunity for many entrepreneurs. There has been an unprecedented rise in the adoption of drone and unmanned aerial vehicles (UAVs) in the last few years. According to a recent report, the global drone shipments would reach 2.4 million in 2023 – increasing at a 66.8% compound annual growth rate (CAGR). The drone market is projected to touch $43.1 billion by 2024.
Drones, for so long, had been considered as highly advanced gadgets that found their applications in LiDAR, Military and Commercial delivery / cargo delivery in recent times. There are many drone manufacturers and operators that promote drone services for a variety of applications, including civilian and recreational applications. During the COVID-19, we came across numerous applications of drones that demonstrated these UAVs could be used for transporting essential goals (including medicines and groceries) in a contactless supply chain. But, the rise in drone applications has opened up new challenges for security agencies around the world, especially in the US where drones have been in commercial use for some time now.
In a recent development, US's DoT Federal Aviation Administration released two rules that will control and regulate the use of drone technology across industries. These rules would prevent conflicts between hobbyists, unlicensed drone operators and commercial remote drone pilots.
These rules are:
The new rules would allow the drone owner and users to conduct aerial surveillance under special circumstances without getting entangled with existing norms of transportation and security policies.
Read Also: Meet the Next Generation of Industry Leading Drone LiDAR Survey Equipment from Microdrones
Here is a quick overview of what these two regulations state:
Remote ID Rule
The Remote ID Rule has been proposed to bring in the integration of Unmanned Aircraft (UA) in the National Airspace System. It addresses the aviation safety and security concerns that UAV operations bring to the National Airspace System (NAS). The rule also distinguishes between standard remote ID-driven UA / drones.
As per the proposed rules, drones must be operated only within the visual line of insight and within the boundaries of a FRIA. FRIA stands for FAA-Recognized Identification Areas. Drone owners can start applying for flying in a FRIA for 18 months after the effective date when the rule comes into existence.
As per the rule, "FRIA authorizations will be valid for 48 months, may be renewed, and may be terminated by the FAA for safety or security reasons."
Operations Over People
As per the rules of Operations of People, the FAA has categorized the drones into 4 types:
Category 1 – small unmanned aircraft that weigh less than 0.55
Category 2 – "small unmanned aircraft must not cause injury to a human being that is equivalent to or greater than the severity of injury caused by a transfer of 11 foot-pounds of kinetic energy upon impact from a rigid object."
Category 3 – "small unmanned aircraft must not cause injury to a human being that is equivalent to or greater than the severity of injury caused by a transfer of 25 foot-pounds of kinetic energy upon impact from a rigid object, does not contain any exposed rotating parts that could lacerate human skin upon impact with a human being, and does not contain any safety defects."
Category 4 – "small unmanned aircraft must have an airworthiness certificate issued under Part 21 of FAA regulations."
Night Rule
Drone operators require to be trained and skillful in handling drone flights at night. According to the new rule, "Remote pilots in command who wish to conduct small unmanned aircraft operations at night must complete either the updated initial test or the updated recurrent online training prior to conducting such operations."
In addition, night drone operators need to undergo an in-person recurrent test every 2 years.
The rule also puts forward certain regulations for drone manufacturer which can be found here:
https://www.faa.gov/news/media/attachments/OOP_Executive_Summary.pdf
Commercial Applications to Grow in 2021
As AI and Machine Learning applications continue to proliferate the UAV manufacturing industry, we will find drone-related technologies to improve, especially in the areas of robotic operations, image recognition and computer  vision. Environmental needs would also influence how drones are employed for various functions in agriculture, military, space tech, and mining. 5G and IoT would further disrupt the drone industry, even as larger companies are looking for scalable Virtualization of hardware, nano tech, Cloud computing and Edge computing that bring in additional security to the whole drone industry.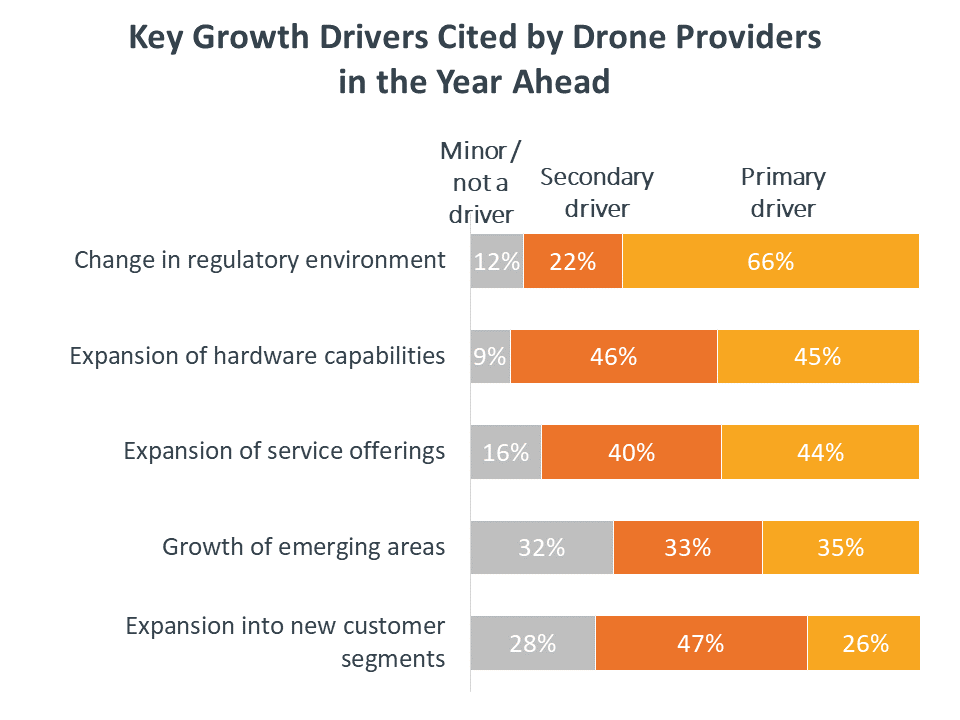 Therefore, I feel that the new rules would accelerate the adoption of drones across many industries in 2021.
Source: Cybersecurity Alert: FAA Releases New Rules Concerning Drone Use