Woobo Inc. Launches Woobo Mini—the First AI-Powered Audio Playmate for 0-4 Year Olds—On Crowdfunding Platform Indiegogo
On Indiegogo Now: A Interactive Audio Playmate That Answers Questions, and Plays Songs and Stories from an Always Expanding Audio Library.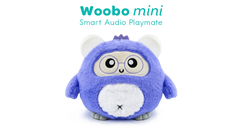 The newest addition to the Woobo family, Woobo Mini is the first AI-powered audio playmate to enter the smart toy market for babies and toddlers aged 0-4. From the makers of Woobo (the educational robot for kids 4+), Woobo Mini delights little ones with a carefully curated and always updating collection of songs and stories.
Read More: Solving the Security Problem Means Solving the Human Problem
Priced at $79, Woobo Mini is now available for pre-order on Indiegogo at heavily discounted rates with special perks.
A Boston-based AI-startup, Woobo Inc., specializes in creating smart companions for kids that are both parent and child approved. Despite being "Mini", this smart audio playmate is packed with an impressive range of features:
Plush exterior which is drop-resistant
Teething-friendly ears that display colorful lights
Multiple ways to control playback – buttons on the toy/Parent App on the phone
Removable plush cover – makes it easy to clean
Offline mode – play select songs and stories without WiFi
Interactive – can answer questions in real-time and follow voice commands
Night mode – turns into a night light with white noise to complement sleep routine
Read More:  Why AI Should Mean Augmented Intelligence, Not Artificial Intelligence
"Our childhoods were filled with favorite songs, stories, lullabies, folktales, and nursery rhymes that we
 grew up listening to. As parents and educators, we often sing to our kids or tell them bedtime stories, but we also use electronic devices to play their favorite tunes," said Feng Tan, founder and CEO of Woobo, Inc. "With Woobo Mini, we've attemp
ted to create a plush, huggable audio playmate who looks nothing like a smart device, but acts just like one!"
Woobo Mini is 7″ tall, weighs about 0.5 pounds, and includes a Parent app for iOS and Android.
Woobo will ship the first Woobo Mini right before Christmas, positioning itself as the tech toy gift of the season for 0-4 year olds
Read More:  Do AI or Die – Advertisers Not Equipped to Utilize AI Will See Campaigns Fail