NVIDIA Launches GPU-Acceleration Platform for Data Science, Volvo Selects NVIDIA DRIVE
NVIDIA CEO Jensen Huang unveils RAPIDS to accelerate data science; highlights auto, health advancements at GPU Technology Conference in Europe
NVIDIA founder and CEO
Jensen Huang
took the stage Wednesday in Munich to introduce 
RAPIDS
, accelerating "big data, for big industry, for big companies, for deep learning," Huang told a packed house of more than 3,000 developers and executives gathered for the three-day 
GPU Technology Conference in Europe
.
Already backed by Walmart, IBM, Oracle, Hewlett-Packard Enterprise and some two dozen other partners, the open-source GPU-acceleration platform promises 50x speedups on the NVIDIA DGX-2 AI supercomputer compared with CPU-only systems, Huang said.
The result is an invaluable tool as companies in every industry look to harness big data for a competitive edge, Huang explained as he detailed how RAPIDS will turbo-charge the work of the world's data scientists.
Read More:  Fluor Uses IBM Watson to Deliver Predictive Analytics Capability for Megaprojects
"We're accelerating things by 1000x in the domains we focus on," Huang said. "When we accelerate something 1000x in ten years, if your demand goes up 100 times your cost goes down by 10 times."
Over the course of a keynote packed with news and demos, Huang detailed how NVIDIA is bringing that 1000x acceleration to bear on challenges ranging from autonomous vehicles to robotics to medicine.
Among the highlights: Volvo Cars had selected the NVIDIA DRIVE AGX Xavier computer for its next generation of vehicles; King's College London is adopting NVIDIA's Clara medical platform; and startup Oxford Nanopore will use Xavier to build the world's first handheld, low-cost, real-time DNA sequencer.
Big Gains for GPU Computing
Huang opened his talk by detailing the eye-popping numbers driving the adoption of accelerated computing — gains in computing power of 1,000x over the past 10 years.
"In ten years time, while Moore's law has ended, our computing approach has resulted in a 1000x increase in computing performance." Huang said. "It's now recognized as the path forward."
Huang also spoke about how NVIDIA's new Turing architecture — launched in August — brings AI and computer graphics together.
Read More: The AI Gold Rush: How to Make Money off AI and Machine Learning!
Turing combines support for next-generation rasterization, real-time ray-tracing and AI to drive big performance gains in gaming with NVIDIA GeForce RTX GPUs, visual effects with new NVIDIA Quadro RTX pro graphics cards, and hyperscale data centers with the new NVIDIA Tesla T4 GPU, the world's first universal deep learning accelerator.
One Small Step for Man…
With a stunning demo, Huang showcased how our latest NVIDIA RTX GPUs — which enable real-time ray-tracing for the first time — allowed our team to digitally rebuild the scene around one of the lunar landing's iconic photographs, that of astronaut Buzz Aldrin clambering down the lunar module's lander.
The demonstration puts to rest the assertion that the photo can't be real because Buzz Aldrin is lit too well as he climbs down to the surface of the moon while in the shadow of the lunar lander. Instead the simulation shows how the reflectivity of the surface of the moon accounts for exactly what's seen in the controversial photo.
Read More: Interview with Ben Goertzel, CEO at SingularityNET
"This is the benefit of NVIDIA RTX, using this type of rendering technology we can simulate light physics and things are going to look the way things should look," Huang said.
…One Giant Leap for Data Science
Bringing GPU computing back down to Earth, Huang announced a plan to accelerate the work of data scientists at the world's largest enterprises.
RAPIDS open-source software gives data scientists facing complex challenges a giant performance boost. These challenges range from predicting credit card fraud to forecasting retail inventory and understanding customer buying behavior, Huang explained.
Analysts estimate the server market for data science and machine learning at $20 billion. Together with scientific analysis and deep learning, this pushes up the value of the high performance computing market to approximately $36 billion.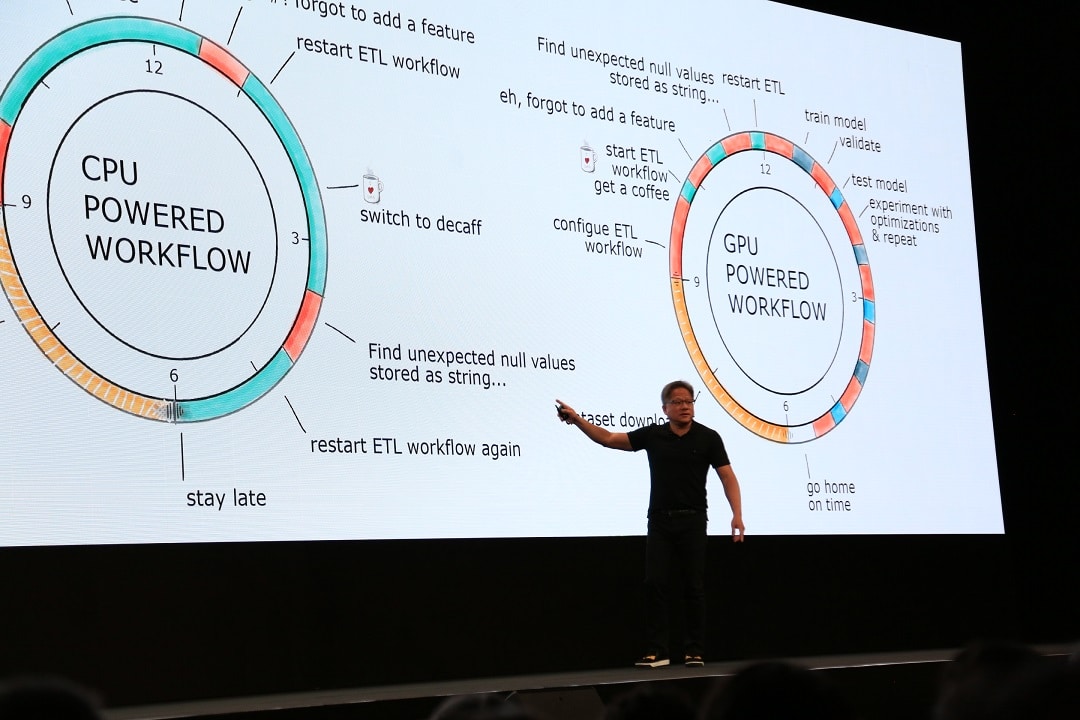 Developed over the past two years by NVIDIA engineers in close collaboration with key open-source contributors, RAPIDS offers a suite of open-source libraries for GPU-accelerated analytics, machine learning and, soon, data visualization.
RAPIDS has already won support from tech leaders such as Hewlett-Packard Enterprise, IBM and Oracle as well as open-source pioneers such as Databracks and Anaconda, Huang said.
"We have integrated RAPIDS into basically the world's data science ecosystem, and companies big and small, their researchers can get into machine learning using RAPIDS and be able to accelerate it and do it quickly, and if they want to take it as a way to get into deep learning, they can do so," Huang said.
Read More: Palo Alto Networks Appoints Amit K. Singh as President
Bringing Data to Your Drive
Huang also outlined the strides NVIDIA is making with automakers, announcing that Swedish automaker Volvo has selected the NVIDIA DRIVE AGX Xavier computer for its vehicles, with production starting in the early 2020s.
DRIVE AGX Xavier — built around our Xavier SoC, the world's most advanced — is a highly integrated AI car computer that enables Volvo to streamline development of self-driving capabilities while reducing total cost of development and support.
The initial production release will deliver Level 2+ automated driving features, going beyond traditional advanced driver assistance systems.The companies are working together to develop automated driving capabilities, uniquely integrating 360-degree surround perception and a driver monitoring system.
The NVIDIA-based computing platform will enable Volvo to implement new connectivity services, energy management technology, in-car personalization options, and autonomous drive technology.
It's a vision that's backed by a growing number of automotive companies, with Huang announcing Wednesday that, in addition to Volvo Cars, tier one automotive components supplier Continental, and automotive technology companies Veoneer and Zenuity and have all adopted NVIDIA DRIVE AGX.
Jensen also showed the audience a video of how, this month, an autonomous NVIDIA test vehicle, nicknamed BB8, completed a jam-packed 80-kilometer, or 50 mile, loop, in Silicon Valley without the need for the safety driver to take control — even once.
Running on the NVIDIA DRIVE AGX Pegasus AI supercomputer, the car handled highway entrance and exits and numerous lane changes entirely on its own.
Read More: Interview with Angel Gambino, CEO and Founder of Sensai
From Hospitals Serving Millions to Medicine Tailored Just for You
AI is also driving breakthroughs in the healthcare, Huang explained, detailing how NVIDIA Clara will harness GPU computing for everything from medical scanning to robotic surgery.
He also announced a partnership with King's College London to bring AI tools to radiology, and deploy it to three hospitals serving 8 million patients in the U.K.
In addition, he announced NVIDIA Clara AGX — which brings the power of Xavier to medical devices — has been selected by Oxford Nanopore to power its personal DNA sequencer MinION, which promises to driven down the cost and drive up the availability of medical care that's tailored to a patient's DNA.
Read More: Interview with Jeffrey Kofman, CEO and Founder at Trint