Hitachi's Microsoft Agreement: A Game-Changer in Cloud-based Manufacturing and Logistics Operations
Hitachi-Microsoft's agreement brings AI, IoT, and Predictive Intelligence under single-view Cloud platform to drive digital transformation in the manufacturing and logistics industries
Today, global innovation company Hitachi has announced its next-generation digital transformation solutions will run on Microsoft. The two companies have signed a strategic agreement to advance AI, Robotics, and IoT capabilities across logistics and manufacturing industries based in South Asia and Japan. The digital solutions would also be made available to the North American market.
Re-engineering the Entire Supply Chain
Each industry is unique in the way it adopts digital tools to transform its core operations. Logistics, manufacturing and supply industries are the most potent markets for digitalization. Together, these three sectors make up the core of any country's economy, even as new-age technologies like AI, Robotics, IoT and Cloud computing form the new-age components of digital transformation for these sectors. Microsoft's role in transforming various industries stands unchallenged. That's why Hitachi picked Microsoft to build highly collaborative and analytics-based solutions for the manufacturing and logistics industries.
Recommended: How Precise Location Based Advertising Is The Future Of Mobile Marketing
The multi-year alliance is expected to completely transform the manufacturing and logistics industries across Southeast Asia, North America and Japan, starting with Thailand in July, 2020.
Driving Logic into IoT-based Industrial Automation
As part of the agreement, Hitachi will integrate its Lumada solution with the Microsoft Cloud platform. The digital transformation tools would leverage Microsoft's best-in-industry Cloud capabilities from Azure, Dynamics 365, and Microsoft 365. These would sync with Hitachi's automation and IoT solutions from the HX Series. Currently, Hitachi Lumada provides advanced digital solutions, services and technologies to turn data into insights to drive digital innovation.
What is Lumada?
Lumada Industry Solution is "Hitachi Digital Solution for Logistics". Lumada integrates the various complex operations and processes within a simplified network with a specific logistics base.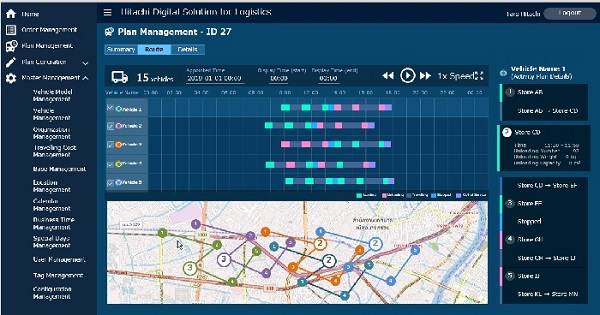 For instance, Hitachi Lumada's Delivery Optimization Service is built to tackle the futuristic needs arising from challenges in logistics operations, delivery and customer experience. Overall, the Lumada is the world's most advanced digital innovation platform in Logistics Operations.
Power of Automated Assist in Manufacturing, Logistics and Predictive Maintenance
Through this collaboration, Hitachi will provide solutions in the following three areas:
Increase manufacturing productivity
Using Hitachi Digital Supply Chain as well as Azure IoT to analyze 4 million industrial data collected from manufacturing sites for the visualization and analysis of production processes to optimize factory operations and increase productivity
Optimize logistics with data analytics
Increasing the logistics efficiency and reducing operational costs by analyzing traffic congestion, storage locations and delivery locations and enabling smart routing to save miles and deliver faster through advanced digital technologies such as Azure Maps and Hitachi Digital.
Read Also: Microsoft Acquires IoT/OT Security Leader CyberX To Enable Unified Security Across Converged IT
Predictive maintenance and remote assist
The partnership would be enabling predictive maintenance, real-time remote assistance, and remote training scenarios for first-line workers leveraging, HoloLens 2 and Dynamics 365 Remote Assist as well as other smart devices.
"Building resilient and flexible digital supply chains is critical to grow a business and meet customer needs in today's fast-changing environments. By expanding our collaboration with Hitachi, we'll unlock new opportunities for manufacturing and logistics companies as they strive to lead in their industries and pioneer with a data-driven mindset and digital capabilities," said Caglayan Arkan, Vice President Manufacturing at Microsoft.
At the time of this announcement, said Jun Abe, Vice President and Executive Officer, CEO of Industry & Distribution Business Unit, Hitachi said, "We are delighted to expand our partnership with Microsoft and combine our OT, IT and products excellence to provide manufacturing and logistics companies with digital solutions. We use Lumada to provide total seamless solutions to solve challenges by connecting cyberspaces with physical spaces. Through this collaboration with Microsoft, we will be able to accelerate our customer's digital transformation, and continue to deliver social, environmental, and economic value."
Lumada, HX Series to Sync with Microsoft Cloud Platform and Solutions
The two companies will work together to meet the growing demand for predictive maintenance and process automation in remote areas and support enterprises as they tackle the challenges infused by the COVID-19 pandemic. Hitachi will integrate its industry-leading solutions, such as Lumada, and its IoT-ready industrial controllers HX Series, with the Microsoft cloud platform, leveraging Azure, Dynamics 365, and Microsoft 365 to help businesses increase their workforce productivity and operational efficiency.
Skilling Initiatives to Meet Current Demands in the Manufacturing and Logistics Industries
Hitachi and Microsoft would also support skilling initiatives to empower businesses, as well as professionals, meet the standards of modern industrial automation and manufacturing techniques. Using the combined power of digital capabilities, the partners would unlock new business opportunities across North America, South Asia and Japan.
In addition, Hitachi is expected to further expand its digital footprints across additional industries to support faster adoption of AI, IoT and Robotics capabilities.
Hitachi and Microsoft will also explore options to integrate Lumada and Azure into an industry data platform to deliver added value to mutual customers.
Key Technologies Unlocking The Future of Manufacturing, Logistics and Supply
As we head into the second half of the year 2020, we would continue to see rampant investments and alliances forged between Cloud and manufacturing tooling companies. The key technologies that would drive help the industries to improve their productivity include:
– 3D Printing
– Self-driving/ Driverless vehicles
– Blockchain-based Logistics
– Big Data Analytics and Business Intelligence
– Contactless Inventory Management (Pandemic-induced disruption)
– Safety and Security
– Insurance, Compliance
– Smart City Logistics Corridor
(To share your insights with us, please write to sghosh@martechseries.com)