Riding on the Generative AI Hype, CDP Needs a New Definition in 2024
Large Language Models (LLMs) and Generative AI (Gen AI) are taking SaaS platforms to new heights. Customer Data Platforms (CDPs) in martech, for example, are currently at the center of every customer experience (CX) management discussion. In short, the AI inflection point in CDPs is here. With CX emerging as the core of any business decision today, there is an obvious need to redefine customer experiences through the lens of new-age technologies, including Gen AI and LLMs. Redefining CX means redefining CDPs. This is an important development for the CDP industry as it embraces the generative AI hype for its further growth. Speaking of growth, the CDP software market is expected to grow to $5.6 billion by 2026. Gen AI and personalization would grow by three times during the same time, according to a recent Martech Landscape trends report.
This is a huge opportunity for the CDP vendors who could completely change the way Martech users use the platforms for omnichannel CX management, contact center service automation, and building AI-powered customer journeys across new emerging channels, such as TikTok.
According to CDP expert, Rabid Raab, the use of modern cloud data warehouse technologies has led to a subtle shift in the perception of the CDP's purpose. Raab mentions the importance of sticking to the fundamental definition of a CDP and its purpose. From the modern martech data management perspective, there is a need to redefine CDP as a "profile sharing system", based on its identity as a packaged CDP or a warehouse CDP.
Historically, according to Google Cloud, marketing and advertising teams have relied on "packaged" CDPs to run their data management activities and then push the data into downstream martech and adtech tools for personalized customer experiences.
In 2024, this "redefinition" movement of packaged and warehouse CDPs can be achieved and consolidated in the martech stack by utilizing LLMs for CDP and generative AI.
By definition, a customer data platform is meant to be a seamless environment for integrating discrete data from multiple sources connected to the marketing technology stack. The sole objective of CDPs is to combine structured and unstructured (and anything in between) data to create a unified, singular customer profile. This profile is collected by ingesting billions of data points from multiple sources such as the company website, the internet, organizational ERPs, CRMs, DAMs, email, chat, mobile, and social media.
Here's a graphical representation of different CDPs- traditional versus packaged versus composable CDPs. (source- Hightouch and Databricks).
The integration of CDP with different martech tools and ERPs through APIs and pre-built connectors. Using machine learning applications, it is possible to democratize data and analytics, making CDPs more agile, flexible, and scalable for multi-channel customer journey orchestration for different industries and technology landscapes such as Fintech, HR Tech, Sales tech, Martech, IT and Storage, and Cybersecurity.
The Emergence of Composable CDPs Using No-code AI Tools
Less than 60% of deployed CDPs are delivering any significant value to the martech teams. Thanks to the rise of modern data stacks and warehouses for CDPs such as Snowplow, Databricks, Hightouch, Google BigQuery, and AWS, composable architecture based on Reverse ETL would become the norm. In a recent AIThority article, Merkle's Courtney Trudeau wrote about the emergence of Composable CDPs in the marketing technology landscape. To embrace experimentation as a culture in CDP deployment, generative AI is a big game-changer.
There's room for the introduction of AutoML into composable CDPs so that data scientists can introduce unique AI-led instances for managing and governing data activation for big data organizations and their customers.
Generative Artificial Intelligence tools embedded into modern composable CDPs will replace traditional CDPs in 2024. These composable CDPs would emerge at the frontline of all major martech stacks that focus on customer journey mapping and audience profile segmentation. Composable CDPs can optimize existing data stacks with robust gen AI-powered no-code workflows, providing integrations with the top martech tools and SaaS applications to meet a wide range of business needs.
Popular data analytics tools provide instantaneous AI integrations with ChatGPT and other generative AI tools. Microsoft Power BI, Qlik Sense, Tableau GPT, Salesforce Einstein GPT, CoPilot AI, and Notion AI are examples that are worth naming in this domain.
Utilizing Generative AI for Building a Real-time CDP
Redefining CDP and Generative AI applications for the martech landscape requires a flawless activation of real-time data analytics. Gen AI, powered by billions of real-time live-streaming data from multiple sources, can create interactive experiences delivered by virtual AI assistants.
According to mParticle, an AI CDP is built on these three capabilities:
High-quality first-party data collection across different streams;
Unifying this data to generate a 360-degree customer profile; and
Forwarding these AI-generated customer profiles to downstream Martech tools for activation.
CDP engineering teams could use Google BigQuery to build customer 360 for multi-channel engagements (including offline and metaverse). The BigQuery integration with CDP for customer 360 provides a strong foundation for real-time customer data analytics, 1:1 hyper-personalization, and compliance.
 AI Lakehouse and Google BigQuery have ensured CDPs get a unified architecture to arrive at a single true unified customer persona.

In-game advertising campaigns use CDP and generative AI tools to capture real-time customer intent.
Imagine you are watching your NFL game and suddenly feel the urge to drink your favorite cola during the match. You click on the cola ad, and voila! your smartphone app orders a cola drink for you, based on your latest click actions. Similar experiences can be found in interactive video games and live-streaming music concerts. Overall, this is possible by parsing customer data using generative AI, quickly sending a rippling stream of data analytics to create a personalized customer journey.
Martech stacks are incomplete without a real-time CDP. Adobe Real-time CDP is a great example in this space.
Adobe's CDP is meant for full-funnel marketing, enabling martech teams to build customized journeys from acquisition through loyalty stages. Such CDPs help different customer-facing teams to prospect ever-changing digital personas and provide them with the best experiences — without the assistance of third-party cookies.
What's behind this redefined CDP superpower?
Built on the Adobe Experience Cloud, Adobe Real-time CDP is a top-notch updated definition for CDPs and Gen AI integration.
Adobe's proprietary AI platform, Sensei. Adobe Sensei GenAI for Real-Time CDP creates unique audience personas and launches activation campaigns using generative templates based on previous performances and profile matching. By continuously training with AI data, this CDP refines and improves audience definitions with more personalized outcomes for "in-the-moment" experiences.
Predictive Intelligence to Influence CX Journeys
With generative AI, Marketing organizations can embrace total CX transformation. This is capitalized on the composable CDPs with AI.
Traditionally, Marketers relied on an army of CX specialists, CDP engineers, and AI programmers to scale their CDP orchestration. With the rise of LLMs in martech engineering, we are witnessing a surreal transformation of customer engagement strategies based on predictive intelligence.
Modern CDPs are required to do more than gather real-time insights from centralized, unified data. World-class AI CDPs generate predictive recommendations for automated decision-making based on unified customer data. Martech customers want their CDPs to orchestrate a bigger picture with deep data analytics and predictive intelligence. Gen AI-powered predictive intelligence can influence live customer segmentation by ingesting and integrating data via stream, batch, and interactive APIs.
CDPs such as Lemnisk use the RAMANUJAN AI ML capability to create moment-based CX via omnichannel customer touchpoints. This AI-powered CDP drives marketing automation efforts to understand ever-evolving buying intent and digital behaviors.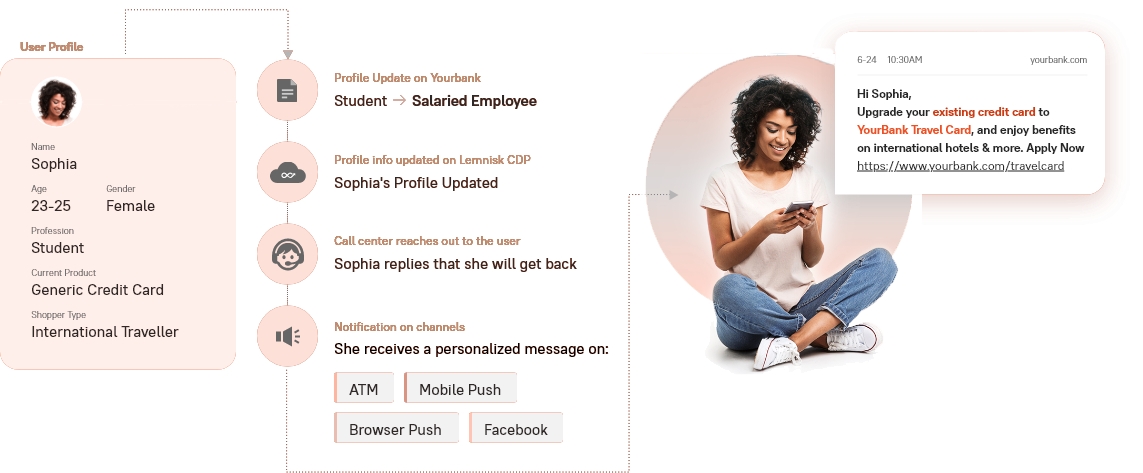 Sitecore's David Schweer explains what a modern CDP looks like in the gen AI era. He defines it as a smart hub CDP that brings together data management, intelligence, and orchestration for reimagining the CX. New AI applications, including generative AI, trigger a range of predictive insights that help marketers design agile automation workflows for audience-building activities and modify marketing voice based on CX objectives. For example, Gen AI-powered customer data activation could be used to determine prescriptive churn and conversion predictions. Similarly, predictive intelligence could power other martech engines, such as AI-powered chat messengers or automated outbound emails.
Signal Discovery to Supercharge CDPs for CX
Marketers are finding new ways to capture experience signals to drive customer loyalty, enhance satisfaction, reduce churn, and maximize revenues. Signal Discovery in customer experience journeys are critical data points extracted from different martech systems. These click-stream data points could provide a complete picture through AI-driven conversation intelligence techniques for marketing, e-commerce, and contact centers. Invoca does it for Tealium's AudienceStream CDP.
In June this year, Invoca's generative AI capabilities were merged with its patented ML technologies to improve digital advertising and contact center performance running on CDPs. These Gen AI-led innovations promise to deliver an exceptional real-time conversation-driven CX with far better conversion rates than previously achieved with standalone martech tools. ChatGPT-based call summarization, smart alerting, and agent coaching are some of the biggest benefits of using CDP and generative AI to streamline signal discovery workflows in 2023. Different systems such as ERPs, CRMs, DAMs, ECMs, HRIS, and CDPs could work in sync to create a "playlist-looking" intelligent dashboard for compliance, auditing, and zero-party data insights.
Now that I have mentioned auditing, let's talk about CDP security management with generative AI.
Customer Data Governance and Security Management using Gen AI
According to Tealium's fourth annual report, titled "State of the CDP" 2023, companies with a CDP confide in their CDPs' capabilities in meeting the current and future data privacy regulations. The same report also placed "privacy and regulatory compliance" among the top three CDP use cases, alongside customer retention, and customer acquisition.
Despite evident concerns related to the use of generative AI models for designing CDPs, business leaders feel this is a unique opportunity to push the boundaries in CX with prompt engineering and no-code LLMs. Heading into an AI-assisted CDP workflow means constantly brushing shoulders against cyber risks and data protection laws and principles. Trusted companies such as NVIDIA accelerate CDP developments using purpose-built tooling for agile experimentation, data analytics, and machine learning. Self-serving ML models can take care of the various IT requirements related to storage, network security, backup and recovery, data governance, and compliance. GPU accelerators from NVIDIA support CDP-ready configurations created for vendors who want to accelerate AI and ML training on their first-party data foundations and third-party apps.
Challenges for Generative AI Applications in the CDP Marketplace
LLMs are on a meteoric rise in the CDP landscape. Despite their immense popularity, IT leaders are averse to deploying generative AI to replace existing CDP models. There are two major reasons for this aversion in CDP and generative AI integration. The first reason is that it takes millions of dollars of computing resources to train AI models for high-end data management and activation. Generative AI can write limericks because it has been trained on trillions of data points related to limericks.
But, how many CDP engineering data points are available for training LLMs and generative AI models for this martech category? Our AIThority analysts are trying to find this out.
FAQs related to CDPs and AI
What are Customer Data Platforms (CDPs)?
Gartner defines customer data platforms (CDPs) as software applications that support marketing and customer experience use cases by unifying a company's customer data from marketing and other channels. CDPs optimize the timing and targeting of messages, offers, and customer engagement activities, and enable the analysis of individual-level customer behavior over time.
According to Oracle, a CDP is packaged software that creates a comprehensive customer database accessible by other systems to analyze, track, and manage customer interactions.
How is a CDP different from a DMP?
There are four main differences between CDPs and DMPs. These are:
CDPs are used for the unification of data from marketing and non-marketing sources. DMPs unify data from advertising sources only. DMPs can't provide insights on "personalization" and CX efforts in marketing.
CDPs collect all types of data. DMPs primarily collect only third-party data.
CDPs collect user's personal information. DMPs collect only anonymized data.
CDPs store data for a very long time. DMPs retain this data for a very short time.
Adobe's Real-time CDP is a unique platform. It provides the features of both DMP and CDP under the same roof.
Who are the biggest CDP vendors with AI offerings?
Salesforce, Tealium, Treasure Data, Adobe, Twilio Segment, and Informatica are some of the leading CDP vendors that offer AI capabilities for analytics, reporting, and predictive insights.
CDP and generative AI create a formidable combination to solve complex IT and marketing challenges. These are related to:
Automated issue resolution
Dynamic content creation for emails, website landing pages, surveys, product recommendations, and chat support
Data cleanup
Error identification and clean-up
Co-programming for no-code self-service CX campaigns
Customer segmentation
Anomaly detection
Data Enrichment
Cybersecurity and privacy-related threat management
What are the top CDP use cases in 2023?
84% of marketers are putting significant effort into analyzing first-party data in 2023. This marks the origin of new use cases in the CDP marketplace. The top CDP use cases in 2023 are:
Unified Customer Data Analytics
Hyper-personalization
Customer Journey Mapping
Multichannel Messaging
Data Privacy and Governance (GDPR, CCPA, CA Delete Act, etc)
Generative AI / LLM Development
What are the top CDP vendor selection factors?
The top five factors while selecting a CDP vendor are:
Ease of use
History of successful CDP implementation/ user reviews
Single view of the customer
Meeting real-time data transfer requirements
Marketplace integrations
Customer service and support
Global locations and teams
Data privacy and compliance
Trust in CDP partnership
What kind of data does a CDP analyze for CX?
A CDP brings together first -, second – and third–party data together in one place. Modern CDPs also unify zero-party data to orchestrate hyper-personalized customer experiences in the B2B and B2C markets. A CDP gathers data from diverse data sources. These include ERPs, HRIS, e-commerce, CMS, CRMs, mobile websites, social media, apps, payments, and marketing automation platforms.
This is a useful reference related to the different types of data unified by a CDP. (source: Treasure Data)
Is a CDP the same as a Customer Engagement Platform (CEP)?
No, a CDP is different from a CEP.
A CDP enriches customer data and pushes the unique customer profiles into a CEP. The CEP uses the CDP-generated customer personas in different channels for orchestrating omnichannel CX campaigns. A CDP can also extract data from a CEP to build segmentations used for the creation of a unified customer profile. CDPs and CEPs can work in sync to enhance conversation intelligence and improve conversion rates.
What are the top CDP integrations that Martech users should have in 2024?
The top CDP vendors who offer AI-powered capabilities provide hundreds of customizable integrations to drive better CX. This is a useful directory of all CDP-related integrations that a martech team could refer to.
What are the key CDP marketplace trends for 2024?
CDP users are more likely to meet their marketing and customer experience objectives as compared to non-CDP martech users. CDP users are also 2x times more satisfied with their marketing outcomes as compared to the non-users.
Who owns the success of CDP initiatives?
IT teams are entrusted with the CDP deployments, and therefore, the CIO and the CTO share the primary responsibility for CDP's success. With composable CDPs, the CDPs have become a shared resource across IT organizations. Therefore, the responsibility gets distributed among the CIO, CTO, CISO, CMO, and Chief Experience Officer. According to Tealium, 36% of CDP teams in 2023 consist of 6-10 people; 45% of CDP teams have 11+ people in their organization for the effective management of CDP.
So, riding on the generative AI hype, do you have a new definition for CDP in 2024?
[To share your insights with us, please write to sghosh@martechseries.com]