Samsung at CES 2020: Meet with New QLED 8K TV 2020, AI Soundbars, and Latest Galaxy Smartphones
CES 2020 is one of the largest global technology events. The 4-days event officially kickstarts tomorrow. But, the hysteria around the latest gadgets and innovations have already begun to spin aficionados into its web. It's time to chronicle some of these exciting innovations. We are covering Samsung Electronics in this article. From launching the most advanced QLED TV to revealing the latest in mobile technologies through its Galaxy 10 series, we already foresee the future of technology with Samsung.
If you are attending CES 2020, don't miss out on Samsung Electronic's Experience Showcase. Here is what the global electronics company is doing at the CES 2020.
To know what Samsung competitors are doing at CES 2020, CLICK HERE.
Tilt your Imagination with The Sero and Samsung QLED 8K TV Series
Trivia: Sero means 'vertical' in the Korean language. Following its initial rollout in South Korea last year, Samsung is set to expand The Sero's availability to several global markets in 2020.
Today, Samsung Electronics has introduced its most advanced Connected TV series. It's the 2020 QLED 8K line – rated as the most imaginative TV viewing experience gelled with premium display technology and ultimate home entertainment experience.
Samsung Sero would be on display at the CES 2020. The Sero is Samsung's versatile lifestyle TV, that breaks the traditional mold of horizontal TV-Viewing experience. Sero can be flipped 90-degrees to allow a seamless transition of content created in vertical formats.
Samsung 2020 QLED 8K TV delivers fluid viewing experience to the audience, connecting personal screen-gazing options with lifestyle – including how you watch YOUR mobile. An unprecedented immersive experience is clubbed with enhanced AI technology embedded into smart TV capabilities.
In addition to the Video output quality, the QLED 8K TV Series combines integration with your Voice, Connected Devices, and other extensive range of smart home capabilities. Powered by its Tizen technology, Samsung TVs are the future of screen-gazing. The new AI TVs will make "it easier than ever for consumers to use voice commands and access new features like Tap View, Digital Butler, and Samsung Health."
At the time of this announcement, Joe Stinziano, Head of Consumer Electronics Business at Samsung Electronics America stated –
"8K resolution has the potential to transform our industry. Screens over 75" are the fastest growing segment in the market, and that segment is where 8K resolution matters the most. Our 2020 8K lineup demonstrates the power of this potential. Its unprecedented immersive capabilities and unparalleled smart features empower consumers to pursue their passions more simply and more comprehensively than ever before."
Infinity Screen– No Barriers to TV Watching Experience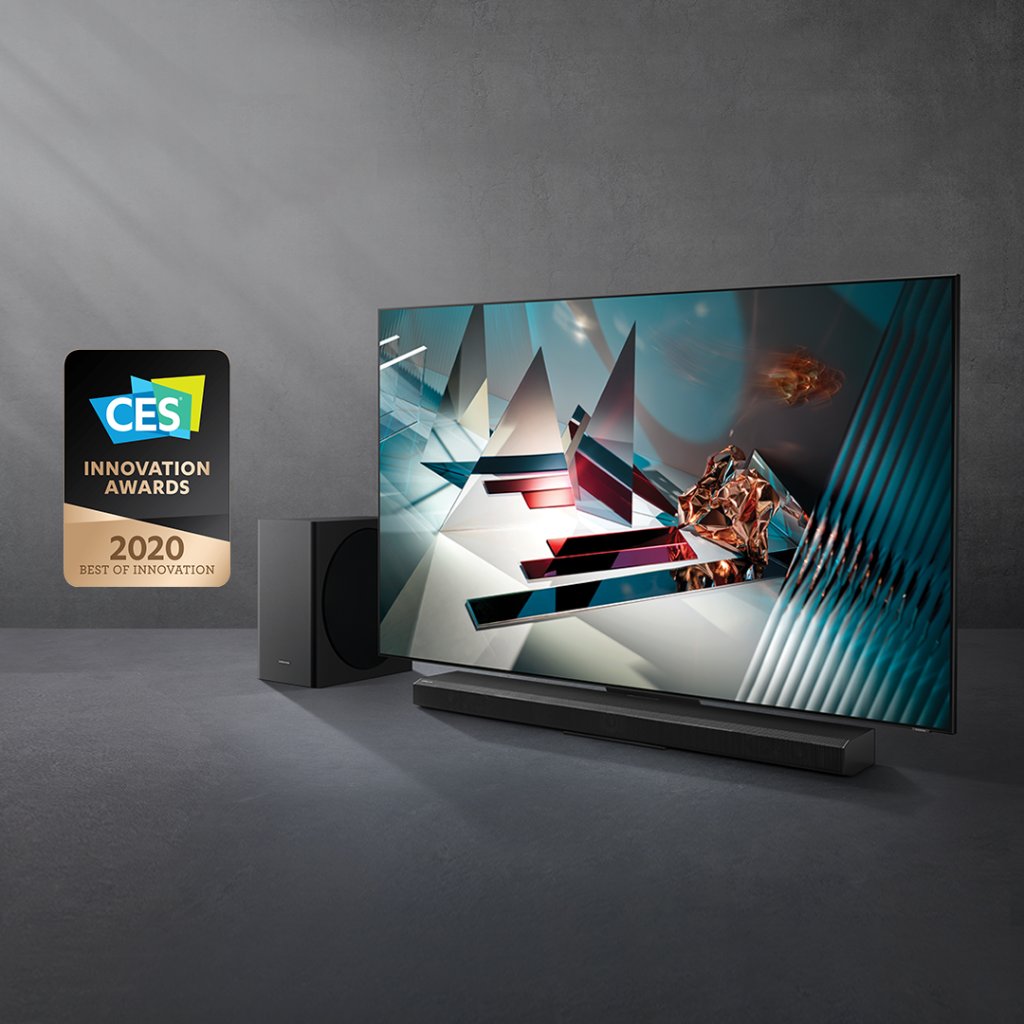 In addition to the AI and Immersive Display technology, Samsung TV in the QLED QK line showcase the advanced screen-to-body configuration. Already pegged as the flatest-TV ever manufactured, the TV range practically eliminates the bezel around the display to create a screen-to-body ratio of nearly 99 percent, the largest in the market. The Q950 is barely 5 millimeters thin across the entire display. Which means, your Full HD experience comes with a special silhouette platform to reduce reflections.
Grace Dolan, Vice President, Home Entertainment Integrated Marketing at Samsung Electronics America, said, "Consumers today expect TVs that can fully integrate into their lifestyles. Samsung is redefining the role of the screen delivering new digital services and creating new designs to enhance your life."
YouTube and Amazon Primer 8K Content Viewing Get A Totally New Platform
With boosted TV display, the 8K Line of Samsung TVs also delivers YouTube-specific native 8K Video streaming content. At 8K resolution, the audience can continue to watch lower resolution content. Powered by AI, new Samsung TV sensors can smartly adjust screen brightness based on the ambient light within the room.
Smart TV technology such as Adaptive Picture takes care of brightness within the particular scene, ensuring that the TV can maintain a clear picture in bright rooms while still maintaining contrast.
https://twitter.com/SamsungTV/status/1214056410184667136
Samsung Electronics is also working with Amazon, utilizing AI ScaleNet from standard definition to 4K in Prime Video.
At CES 2020, you can watch powerful TV features, including –
Bixby, Samsung's AI assistant
Samsung TV Plus
NEXTGEN TV
Samsung Bots: GEMS Flexing Its Muscle at CES 2020
We saw the first glimpse of Samsung GEMS (Gait Enhancing and Motivating System) at CES 2019. This time, we are expecting to see GEMS scaling new heights with improved locomotion and human simulation model.
Samsung plans to develop customized robots for users with a shared robotics platform based on its AI technology. It is branded as the world's most advanced assistive technology for the disabled. With GEMS, disabled users can walk and perform tasks by simply leveraging Samsung's wearable robotic solutions.
We are also expecting Samsung to showcase their next line of LiDAR and mapping devices, including SLAM (Simultaneous Localization and Mapping).
Introducing Galaxy S10 Lite and Note10 Lite
Samsung's flagship smartphone models have created a buzz already for CES 2020. Last week, the company announced the new Galaxy S10 Lite and Galaxy Note10 Lite. Marked as an extension of its legendary Galaxy S and Galaxy Note series, the latest mobile smartphones bear all-new series of latest camera technology, signature S Pen, immersive display and a long-lasting battery. Enhanced security options, face-recognition, and AI-based app management systems make the Galaxy series far more competitive than it previously was.
The Galaxy S10 Lite and Galaxy Note10 Lite are dotted with Samsung's ecosystem of apps and services. Users can play with tons of interactive apps, including Bixby, Samsung Pay and Samsung Health, all protected with defense-grade security platform Samsung Knox.
At CES 2020, we're expecting to see a prequel to the 2020 Samsung Galaxy Unpacked Event. The Unpacked Event is slated for launch next month on 11 February in San Francisco at 11 a.m. PST.
More under the Hood: Samsung's Top-end Smart Home Appliances
In addition to the TVs, smart bots, mobile phones, and cameras, Samsung has ensured visitors get a first-hand experience into other appliances as well.
These include –
Q-Symphony Soundbars
AI Quantum Processor 8K
Object Tracking Sound+ (OTS+)
WA8500V Front Load Washer
Portable Slim Double Induction
AI-powered Family Hub
4D-Flex BESPOKE and Cube Refrigerator Series
Many other Samsung Electronics products are currently on display at this year's CES 2020, gracing the pedestal with world-renowned TVs, processors, and mobile devices.
(To share your story from CES 2020, please write to us at news@martechseries.com)