What is An AI-Based Call Analytics Software?
AI is growing at such a pace that people find the innovations overwhelming at times. Automation is seen almost in every industry, and not doing so results in slowing your business down. According to a study by a leading market research firm, The artificial intelligence market is expected to be worth $16.06 billion by 2022, growing at a CAGR of 62.9% from 2016 to 2022.
Beena Ammanath, Executive Director at Deloitte AI Institute, supports the automation transformation by saying "AI and its ability to augment human workers is one of the most influential forces shaping the future of work. We are now in the Age of With, where companies are harnessing the power of "with" to identify unique advantages through analytics and AI."
An AI-based call analytics software is to record, analyze, and transcribe calls. Companies can gain hidden insights from customers by referring to these conversations. Call analytics assures the service quality; managers can have a look at the agent profile and determine the problems. Moreover, the customers receive personalized service; the software merges and complies with all the customer data, enabling the agent to identify the problem quickly.
Read More: Business Process Management Is Evolving Fast. How is Your Business Keeping Up in 2021?
Features of an AI-Based Call Analytics Software
Context of a Conversation
Whether it is a pre-recorded or real-time call, software tags it with a keyword with the help of speech analysis. When a customer calls a center and answers the pre-recorded questions ("press 1 for this issue"), the call analytics notes it. This results in better service and customer satisfaction.
Here's an example of how CallRoot dynamically tracks and records inbound Sales calls.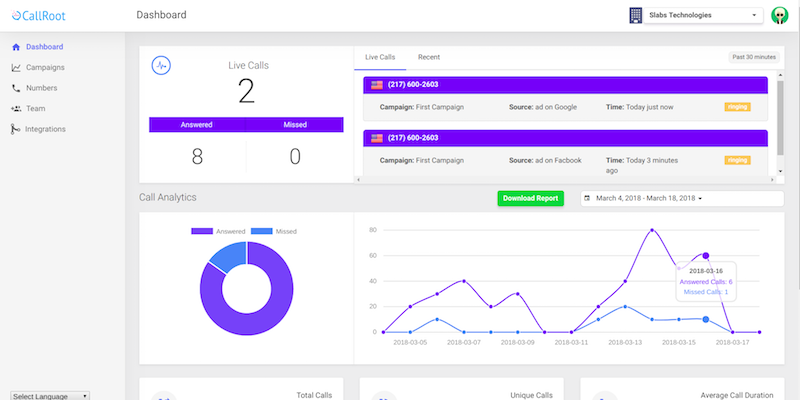 Agent Personality Profiling
Call analytics observes the way an agent handles the clients. Some agents are good at convincing an angry client, while another agent might pitch well. The calls are assigned accordingly, making the best use of the human resources you have.
Intelligent Call Routing
As the analytics software already has the customer and agent information, it assigns calls based on the data. Any customer would like to talk to the same person as the last time they called. This helps in developing the relationship with the customer better. Agents, too, can be more productive if they already know the customer's background.
Insights, Predictive and Real-time
Call analytics software predicts a pitch, or the overall growth, based on the previous statistics. Also, it gives some real-time insights into a call; what all to do to convert the ongoing call into a positive result, and so on. This is possible because of ML, where the computer can read and comprehend past data, and draw a graph over it.
Market, Trends, and Patterns
What is your competitor doing to deal with a certain issue? How is your consumer base reacting to your product? What are people thinking about your company, and what should you do to make it better? You find answers to these questions with the help of call analytics software. This AI-based software is able to provide you with research and statistics very easily, which consumes a lot of time when a human does it.
Read More: Evolution of Customer Care Centers in the Face of COVID-19
Top Call Analytics Software in The Market
Zendesk – It is quite well-known software that enhances the conversational experience, both for you and your customers. They have facilitated the software so that the customers can easily connect to you for help.
CallRail – CallRail is an expert solution for call tracking, conversation intelligence, and lead tracking.
Freshworks CRM – It is a cloud-based software that automates repetitive tasks such as personalized emailing. The software also has a deal management feature to help you achieve the best results.
Acquisio Turing – Acquisio Turing is a leading AI technology for cross channel PPC (pay-per-click), including budget management, distribution, and local lead estimation.
Zoho – Zoho provides solutions for almost all the CRM needs such as sales and marketing, email and collaborations, finances, customer services, and solutions, etc. They recently launched the WFH toolkit for the ease of remote working.
Various startups are emerging in AI-based call analytics with many innovative functions. Voice Base is an API that transcribes the calls, evaluates them, and predicts the behavior as well. Afiniti software assigns a unique identification number to each customer, which is then assigned to a specific support agent.
The intervention of AI in such fields, where there is a lot of human involvement and personal data, is very scary at times. As of now, there are very few negative responses from companies regarding this problem. Automation made a lot of work smooth in the marketing sector. Customers seem happy, as the CRM model of companies underwent a modernization. Instead of worrying about the negative outcomes, companies are learning to look at call analytics as a source of compiled data and change the look of a receiver end concerning the customers.
Regarding this, Beena Ammanath suggests that machines should be as closely monitored as human workers are, to avoid any further complications.