Eliminating Manual Cleaning of Manholes with Robotic Machines
A CSR Initiative of BPCL's Mumbai Refinery
In the age of automation where cars and aircrafts drive themselves, India still continues to grapple with manual cleaning of manholes and deaths incidental to it. Although employment in manual cleaning of manholes was outlawed more than 25 years ago, it is estimated that at least half a million manual cleaners across the country are cleaning, carrying and disposing of waste with bare hands and bearing the stench of sewage. This has also resulted in loss of life for many who get asphyxiated after being exposed to harmful gases. This job is not just demeaning, humiliating and fatal, but is the worst example of social injustice leading to social stigmatization, discrimination and exclusion of people employed in such activities from the mainstream of economic growth.
Read More: How To Get Started As An AI Developer For Self-Driving Cars
To eliminate manual cleaning of manholes and energize the dignity, health, safety and skills of safai karamcharis involved in such work, Bharat Petroleum Corporation's Mumbai Refinery, under its umbrella of Corporate Social Responsibility, provided two Robotic Manhole Cleaning Machines (named Bandicoot) to Municipal Corporation of Greater Mumbai Ward M-west, Chembur, on 21st November, 2019.  Mr. C. J. Iyer, Executive Director Incharge, Mumbai Refinery,  Mr. R. R. Nair, Executive Director HR (MR & JVRs) and Mr. Kurian Parambi, CGM HR (Mumbai Refinery) handed over  two Bandicoot Robots to Dr. Prithviraj C. Chauhan, Assistant Municipal Commissioner, MCGM M-west Ward. The Bandicoot robots were developed by M/s. Genrobotics Innovations Pvt. Ltd, a leading robotic start-up and funded under BPCL's start-up support initiative, Project Ankur.
Using machine learning and artificial intelligence, the Bandicoot which is equipped with a user interface, limbs, cameras and sensors, can be lowered into manholes to determine the amount of unclogging needed and scoop / collect the silt from different angles inside the manhole. The Bandicoot can work with efficiency, precision and save many man-hours. Work that would take four to five hours manually can be completed in about an hour.
Read More: Tracking Google Cloud at RSNA 2019
Before the robotic manhole cleaning machines were handed over to the Municipal Corporation, they were pilot tested at the BPCL's Mumbai Refinery. Furthermore, to ensure that there is no job loss caused due to robotic manhole cleaning,  BPCL will up skill the safai karamcharis of MCGM M-west Ward, to use the robots through a training with rehabilitation session. This is a profound initiative to reintegrate safai karamcharis into a healthier and more dignified worklife.
By leveraging technology to eradicate manual cleaning of manholes, BPCL aims to address the longstanding challenges posed by social and health hazards and serve as a catalyst to change manholes to roboholes. Participating in the developmental journey of the country, BPCL is focused and proactive in its commitment to energize the dignity of marginalized communities and enable sustained social change or transformation across the nation.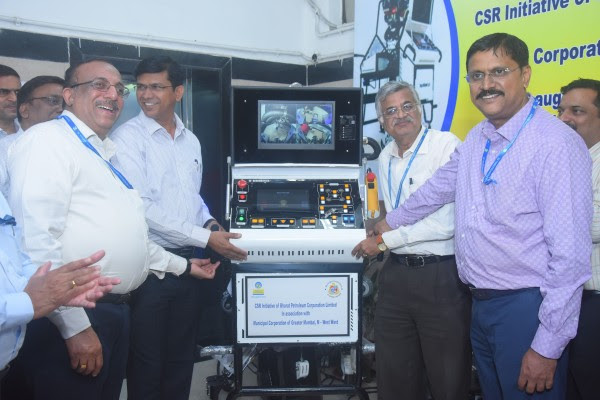 Read More: Neustar and TRUSTID Introduce Inbound Authentication Solution for Call Centers