AiThority Interview with Rebecca Szew, EVP, Research & Insight at GBK Collective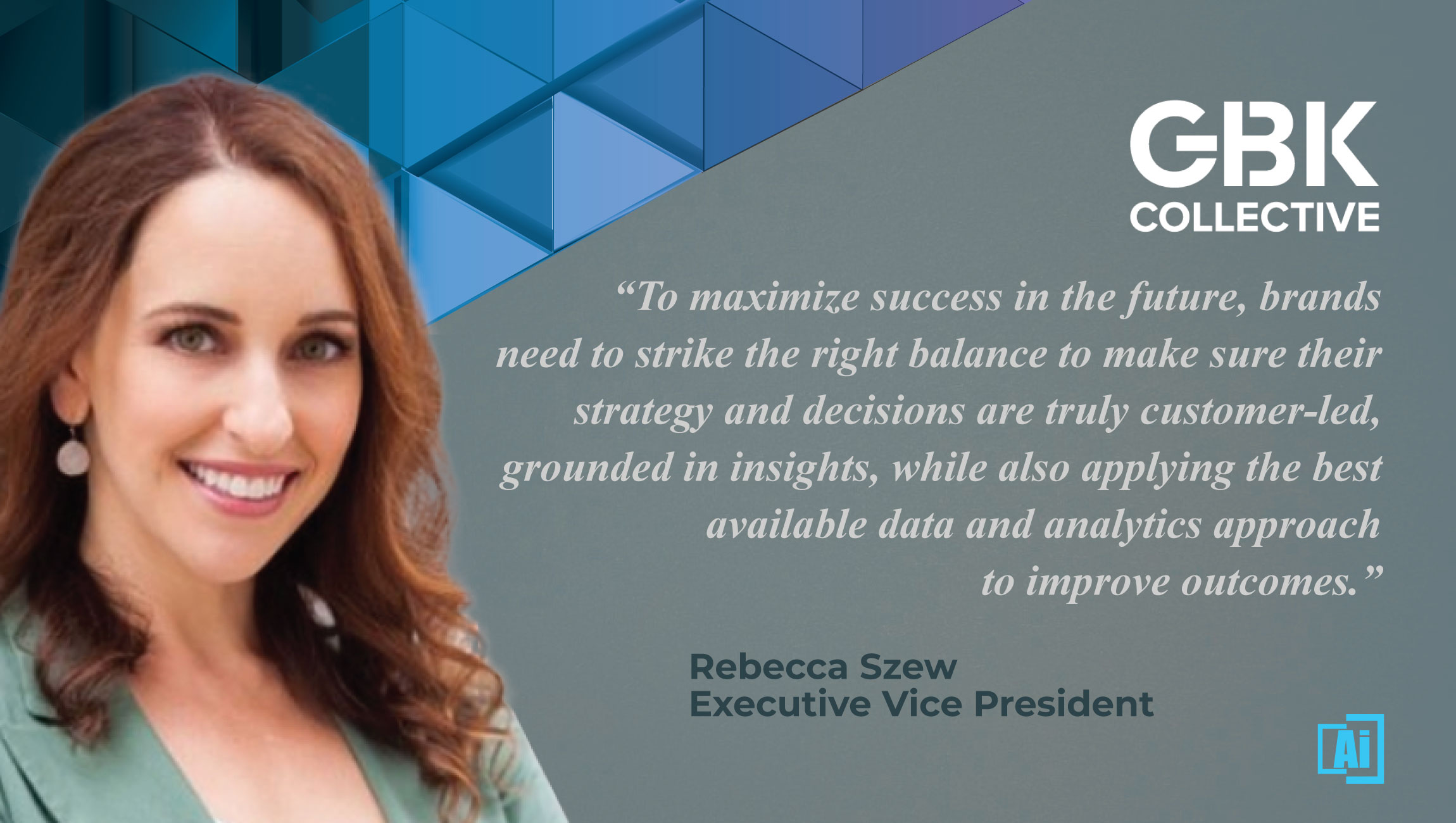 Hi Rebecca, please tell us about your current role and the team. What types of problems is GBK Collective solving for clients? 
I've always loved solving problems through research. Companies today need to balance both left and right brain thinking, qualitative and quantitative research, to truly understand the needs of their target customers and create strategies for growth. Over the course of my career, I've helped many dozens of clients across categories apply data and insights to better understand their target customers and solve business problems.
I joined GBK Collective several years ago and in my current role as EVP, oversee GBK's research and insights practice, advising Fortune 500 clients across areas including brand and marketing strategy, customer segmentation, customer lifetime value (CLV), advertising effectiveness, brand equity and drivers, among other areas. 
Prior to joining GBK Collective, you held positions at Millward Brown and IRI, and have experience across industries, including technology, B2B, CPG, ecommerce and entertainment, among other sectors. What are some of the biggest key learnings in your career and how do you apply to your role at GBK?
I started my career as a research consultant with IRI working onsite with my client Neutrogena, embedded within their marketing organization. This was valuable experience as I was able to directly see the types of decisions that research and insights could inform, and the strategy needed to make insights actionable across an organization.
Initially much of the research I did was focused on consumer behavior across retail channels and transactional data. As I moved to Millward Brown, I pivoted to gather and apply new types of data and insights across categories for major brands such as Intel, Starbucks, Stitch Fix, Expedia and other clients. Over my decade and a half at the firm, the common thread across all my work was to help clients build stronger brands.
In my current role at GBK, I'm able to go even deeper with research and insights techniques, while also working with a talented team to solve client problems through analytics.
I learn something new with each and every client I work with, but there are a few overarching key themes that stand out for me:
– Start with the business problem. The design of any successful research or analytics project starts with clearly framing the business problem you're solving for. What are the key strategic questions your need to answer through data and customer insights?  What types of decisions do these answers need to inform, and how will we measure success?
– Focus on your most valuable customers or segments. Successful insights starts with clearly defining who your target customers are, and aligning the needs of those customers or segments with the priorities for your business.
– Make data and insights actionable. With wave after wave of potential data to pull from, there's a fine line between turning up the heat with research and insights and boiling the ocean. Too often we see companies that try to apply the wrong data, or drink from the firehose, rather than focusing on the insights that will truly make a difference with their target customers. Equally important is making sure you have the right resources, process and strategic plan in place to put those insights into action. At GBK, we create hands-on, immersive workshops to share-out results with cross-functional teams in our clients' organizations, focusing on the 'what now' and 'what next' applications.
Also Read: AiThority Interview with Lauren Kelly, CMO at ThoughtExchange
Can you talk more about GBK's approach to research, customer insights and analytics? What makes your approach unique compared to other firms?
One of the things that really makes GBK unique from other firms is we take a custom approach to each and every client project, rather than the "black box" solutions you see many other firms propose.
GBK was co-founded by Eric Bradlow, Vice Dean of Analytics and Chairperson of Wharton's Marketing Department, so another aspect that makes us really stand out from other firms is we apply industry leading academic expertise and real-world corporate experience to every project with clients to deliver practical and actionable solutions to real issues. 
As GBK Collective has grown over the past several years, we've had the honor of working with a number of major brands to solve some of their most pressing business challenges.
Working in close collaboration with our clients, we put research, insights and advanced analytics techniques to work to help them see their business problem with clarity, and then develop custom solutions. Among the questions we help clients answer:
– Who are the most valuable groups of customers for your brand, and what can make those customers choose you versus alternatives? 
– What are the key factors that truly drive your brand's value, and what more can we do to earn target customers' long-term loyalty?
– How can we identify your most valuable customers and what can we do to maximize their value to your brand – and find more of them?
– What are the bundles of features and benefits – at what price – that will maximize business outcomes?
– What are the measurable business impacts from your advertising, campaigns and promotions?
What are the biggest challenges facing marketers today in your opinion?
There are a myriad of challenges marketers face today. In addition to the examples I shared above, one of the biggest challenges is knowing how to apply the right data and insights. As our co-founder Eric Bradlow says, "firms need to focus on better data, not big data". Given all the distractions and noise in the marketplace, companies can easily get off track or go down the wrong rabbit hole when applying data or insights to decision making.
To separate the signal from the noise, businesses not only need to apply better data from a variety of sources, but also take a hypothesis driven approach where they are constantly experimenting to improve the accuracy of their findings. Another key is effective measurement of advertising, marketing and CX across channels so they have a holistic view of customer behavior and the impact of their efforts.
How do you help clients unlock growth and boost performance for their brand in the market? 
One of the most important success factors for companies today is avoiding the temptation to cast too wide a net – attempting to market products and services to every customer segment under the sun. The most radical growth happens when companies focus on serving their most valuable customers. 
Another key is to build a holistic brand strategy that not only delivers near-term results and marketing effectiveness, but also looks at the key investments needed longer term to shore-up and differentiate the brand over time based on the unique needs of target customers. It's the classic 'urgent versus important' struggle, and no organization is immune from walking this tightline.  
As an example, a client of GBK's (a global technology leader) found itself overly reliant on short-term promotions to drive business results. Through a modeling exercise that decomposed incremental sales attributed to promotions versus base sales driven by the long-term equity of the brand, we learned that the strength of the brand was actually declining over time – and as a result, they needed to spend more to drive similar or weaker outcomes. These insights resulted in a huge shift in advertising strategy, moving away from primarily demand-generating campaigns to a focus on brand-building.
Given the breakneck pace that most companies are operating in today, it's tempting to aim for the quick-wins to the detriment of the long term health of a brand. In our engagements at GBK, we are constantly thinking about both.  
Also Read: AiThority Interview with David Olesnevich, Head of Product – IBM Watson Advertising at IBM
Once you have clearly identified your target customers and segments, how do you make sure you're applying the right insights and data to improve CX and marketing?
Organizations need to build an outside-in marketing strategy that aligns the strength of the company and its products, but most importantly, centers on the needs of its most important customers. To do this well, you need a clear segmentation strategy, encompassing multiple insights and quality data across the customer journey. Once you believe you've landed on the right data and insights, the next step is to pressure test your hypothesis and experiment to see which downstream business applications, marketing offers and messaging you need to prioritize.
Through segmentation, brand driver and other research studies GBK conducts for clients, we're able to deliver more precise data and reliable insights to track how the brand is performing and how they stack up against the competition in key areas, while also applying advanced analytics techniques to improve CX and marketing. We've also worked with dozens of clients to provide research and insights to inform the  design of new products and experiences to attract target customers and to appeal segment-specific needs. These insights also fuel roadmaps for extending into new categories or help with portfolio optimization across brands within an organization.  
How is today's marketing landscape different from what it was when you first joined the industry, and what impact will AI, machine learning and other emerging technology have in the future?
Marketing has evolved dramatically since I started my career and now with the advent of AI, machine learning and analytics, the pace of change is only increasing.
While AI and MarTech platforms allow for marketing automation at scale, technology in itself is not a strategy. As marketing becomes more data and technology driven, brands need to be careful that they don't erode brand trust. Far too much of the marketing we see today is focused on applying technology and algorithms to serve content with a goal of increasing traffic, clicks and eyeballs across channels.
To maximize success in the future, brands need to strike the right balance to make sure their strategy and decisions are truly customer-led, grounded in insights, while also applying the best available data and analytics approach to improve outcomes. Ultimately they need to make sure their core values and positioning are aligned with the target segment needs, regardless of what technology platforms they're using. 
Your message to young female marketing technology professionals – what kind of data science training should they acquire to be successful in your industry?
There are a combination of factors and skills leaders need to acquire to be successful – whether their goal is to become a CMO, marketing research or data science lead for a company. Given the huge shifts in the way we work over the past year, honing your interpersonal skills for a remote workplace is incredibly important.  
Success will also depend on mastering the non-routine types of technical skills that are not replaceable by AI, especially in this field as big data analytics becomes more commoditized.  Beyond technical skills, when I reflect back on the various training I've had the opportunity to take part in over the duration of my career, the most valuable ones helped me learn how to frame business challenges, identify the central business question and serve as a strategic advisor to my clients on their journeys to solve those problems.
Also Read: Women's Day Special: AiThority Interview with Anshu Agarwal, CEO and Founder at Nimbella
Thank you, Rebecca! That was fun and we hope to see you back on AiThority.com soon.
Rebecca is Executive Vice President at GBK Collective with over a decade of experience advising clients in the areas of brand strategy and communication optimization. She has extensive experience across various industries, including technology, fashion, B2B, CPG, pharmaceuticals, QSR, ecommerce and entertainment.
Born from academics. Enlightened by data-driven research and analytics. Guided by expertise and experience. GBK Collective is a leading marketing strategy and analytics consultancy built to solve marketing problems in high definition.
Co-founded by the Vice Dean of Analytics and Chair of Wharton's Marketing Department, GBK applies industry-leading academic expertise and real-world corporate experience to every project with clients to deliver practical and actionable solutions to real issues.